French designer and artist Pierre Charpin's portfolio of work has always exhibited a joyful whimsy, confidently expressed by color and form loosely constrained by an affinity for minimalist solutions. He's brought this eye for playful, yet elegant simplicity to Danish brand HAY, manifested in their collaborative PC lamp series. Charpin's latest edition is a petite portable USB-powered LED lamp intended to bring ambient light to indoor and outdoor spaces alike.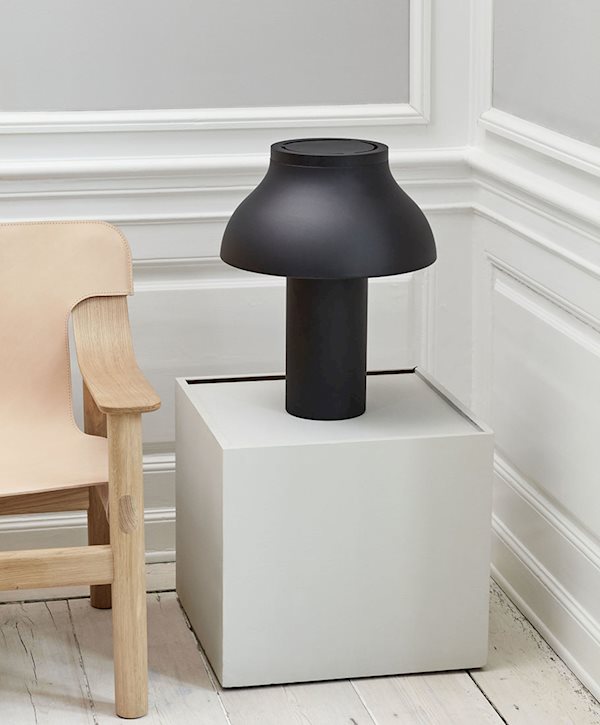 The $95 PC Portable Lamp is the smallest variant of the lighting series, a rechargeable battery-powered LED light source specced to glow for up to 8 hours per charge with a lifespan of 25,000 hours of use. While comfortably applicable for domestic use, the HAY lamp is also envisioned as stylish dining light for cafés, restaurants, and other public areas thanks to its water-resistant matte finish injection-molded ABS plastic base and shade. An optional USB charging station is also available, allowing for up to 24 PC Portable lamps to charge simultaneously, a convenient option that should make this lamp a popular lighting solution in hospitality.
The three colors available – soft black, olive, and cream white – aren't merely aesthetic options; the white edition is an ambient light, while both the black and olive variants provide directional down light.
The PC Portable Lamp is available online in all three colors for $95 via HAY.

Source: design-milk