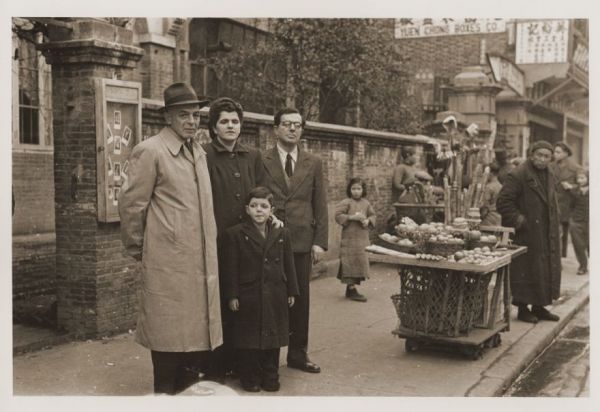 In the 1930s, as life for Jewish people in Germany and later German-occupied countries became more and more unbearable, many tried to emigrate. Germany encouraged this up until 1941. The problem was that no other nation would accept them, and to be allowed to leave, one had to have a place to go. The exception was Shanghai, China, where visas were not required for entry, but the city would issue one if you needed it to travel as a refugee. The city was poor, overcrowded, and ruled by various foreign interests, but it was safe.
Nevertheless, many of the Shanghai locals, in spite of their own hardships, welcomed their new neighbors and shared what little they had, whether that meant housing, medical care, or just simple kindness. Gradually, with that support, Jewish refugees began, little by little, to create lives in their new country, and before long, the proliferation of Jewish-owned businesses was such that the Hongkou area became known as "Little Vienna." Like their Chinese neighbors, they did their best to survive in difficult circumstances. They established newspapers, synagogues, retail businesses, restaurants, schools, cemeteries, guilds, social clubs, and even beauty pageants. They practiced medicine, started hospitals, got married, had babies, and held bar and bat mitzvahs. They learned to cook in coal-burning ovens and to haggle with street vendors.

One Hongkou resident remembers the time and place with great fondness. The artist Peter Max, who would later become known for his signature "psychedelic" works of art, came to Shanghai with his parents after fleeing Berlin. Like many of the Jewish families who immigrated to the city, Max's father started a business, in this case, a store that sold Western-style suits. It was, Max recalls, an auspicious choice, as Chinese men were just beginning to favor them over their traditional Mandarin clothing.

"On the ground floor of our building was a Viennese garden-café," Max recalls, "where my father and mother met their friends in the early evenings for coffee and pastries while listening to a violinist play romantic songs from the land they had left behind. The community of Europeans that gathered and grew below our house kept me connected to our roots."
However, the war they had fled caught up with them. Japan consolidated its rule over Shanghai in 1941, which put Shanghai's Jewish residents back under the Axis influence. Read about the Jewish population of Shanghai at Atlas Obscura.
(Image credit: United States Holocaust Museum)
Source: neatorama