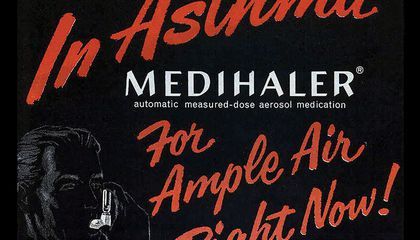 The tools and technology that help us today didn't just come out of nowhere- it has to start from, well, somewhere. Someone would have a problem that needs to be solved, and people then start finding ways to solve that problem through research and development. This was the case for the asthma inhaler. Pharmacologist George L. Maison was asked by her daughter why her medicine for asthma wasn't available in a spray can. Maison, as the president of Riker Laboratories, assigned chemist Irving Porush to try and create a medicine that would be available in a spray-like can, as The Smithsonian details:
At the time, Riker was owned by Rexall Drugs, which did indeed manufacture hairspray. Borrowing expertise on propellants and aerosols from the cosmetics technicians down the hall, and using a recently patented metering valve capable of delivering precise amounts of atomized liquid, Porush created the first metered-dose inhaler (MDI) in just two months. By March 1956, the Food and Drug Administration had approved two new aerosol drugs for asthma, as well as Porush's device for delivering them.
"It was a game changer," says Stephen Stein, a scientist at Kindeva Drug Delivery (a descendant of Riker Labs) and co-author of a recent history of therapeutic aerosols.
Today, sales of pharmaceutical inhalers exceed $36 billion globally each year, and the device has puffed its way into medical history, improving the lives of millions: More than 2,000 people around the world use one every second.
Image via The Smithsonian
Source: neatorama