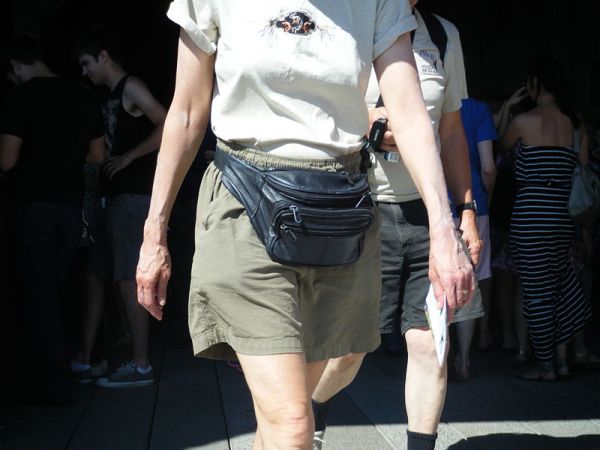 A couple of years ago, my daughters complained they had no pockets that would hold their iPhones while jogging. I mentioned fanny packs, but they didn't know the term. Since they also had no idea of the disdain for fanny packs, we bought them and they've been using them ever since. I learned there is a big difference between an elderly American tourist using a fanny pack and a young jogger wearing earbuds wearing a fanny pack. The concept of wearing a purse around your waist goes back much further than you might think, but it only took off in the 1960s.
The 20th-century obsession with the fanny pack seemingly began on the ski slopes in Europe in the 1960s and '70s. Known as bauchtasche, or stomach bags, in Switzerland, skiers traveling away from the base lodge who wanted to keep certain items—food, money, a map, flares, and occasionally alcohol—within arm's reach wore them proudly. Photographers also found them useful when hiking or traveling outdoors and climbing through obstacles, as they reduced the risk of an expensive camera or lens being dropped or damaged.
Read about the rise, fall, and resurrection of the fanny pack at Mental Floss.     
(Image credit: Plot Spoiler)
Source: neatorama