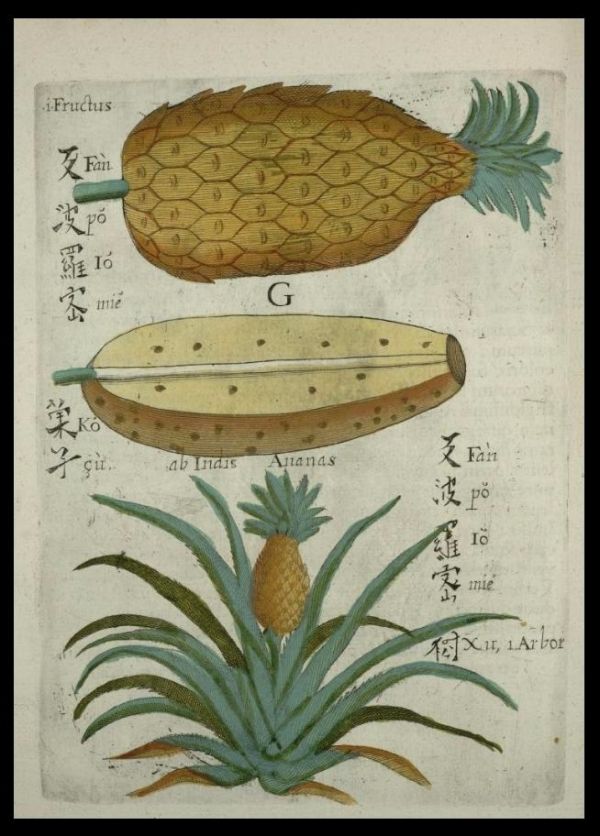 Europe had no pineapples, and they were completely unknown there until Christopher Columbus returned from his second voyage to the New World in 1496. He packed some of the fruit for import along with parrots, tomatoes, tobacco, and pumpkins. While the tobacco and pumpkins survived the journey the best, it was the pineapple that really made an impression.
The fateful pineapple that reached King Ferdinand was the sole survivor: it was the only specimen that had not dissolved into a sticky rot during the journey. It produced enough of an impression for Peter Martyr, tutor to the Spanish princes, to record the first tasting: "The most invincible King Ferdinand relates that he has eaten another fruit brought from those countries. It is like a pine-nut in form and colour, covered with scales, and firmer than a melon. Its flavour excels all other fruits." At least part of the excitement came from the fruit's spiked form, which sent Europeans into rapture. King Ferdinand's envoy to Panama, Gonzalo Fernández de Oviedo y Valdes, writes, "[It is] the most beautiful of any fruits I have seen. I do not suppose there is in the whole world any other of so exquisite and lovely appearance." The sweetness of the pineapple, too, should not go unmentioned. Renaissance Europe was a world essentially bereft of common sweets. Sugar refined from cane was an expensive commodity, and orchard-grown fruits were subject to seasons. The pineapple may well have been the tastiest thing anyone had ever eaten. But delicious or otherwise, it was still the preserve of adventurers, and the pineapple might never have made it into common lore if it hadn't coincided with yet another global development: the widespread dissemination of the written word.
Pineapple became a sensation for three reasons: it was completely new, it was expensive due to shipping and was therefore reserved for the wealthy, and it was really tasty. Read about the rise of the pineapple at The Paris review.
-via Messy Nessy Chic
Source: neatorama