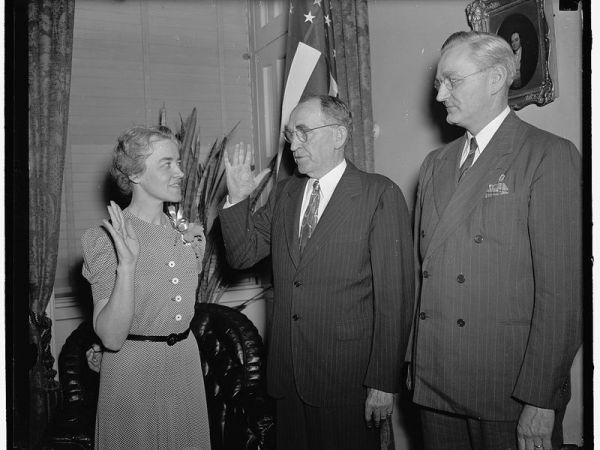 When a member of the US Senate dies in office, the state's governor usually appoints someone to fill the position. Quite a few times in our nation's history, that person has been the late senator's widow. The House of Representatives fills the slot by special election, in which a widow can run and often has their party's support. Not only is it a way to show respect for the late congressman, it is usually assumed that the widow has the same political positions. Beginning in 1922, widow succession has been an important method of getting women into congress. At least in the early days, becoming a political widow was the easiest way for a housewife, or any woman, to enter congress. But are these widows really qualified?   
Many widows who went to Congress were already familiar with its working, having been party to their husbands' world. "They had worked on their husbands' campaigns and as a result, knew their district well," explain Palmer and Simon. Many wives were deeply entwined with their husbands' policy setting and political strategy. Before the powerful congressman Hale Boggs died, his wife, Lindy, "was his chief political adviser," explains the House of Representatives archives. "She set up her husband's district office in New Orleans, orchestrated his re–election campaigns, canvassed voters, arranged for her husband's many social gatherings, and often acted as his political surrogate as demands on his time became greater the further he climbed in the House leadership."

Some widows' tenures in D.C. came to overshadow their husbands' legacies. Perhaps most notable was Senator Margaret Chase Smith, a famous and formidable politician who spoke out against Senator Joseph McCarthy's redbaiting. She originally went to Congress in 1940 to fill her husband Clyde's seat and, after her election to the Senate in 1964, she made history as the first woman to serve in both chambers. She lost her last election in 1972, when she was in her mid-70s.
The tradition continues. While more women are entering congress on their own records, name recognition and legacy still helps. Maya Rockeymoore Cummings is in the running for the seat vacated by her late husband Elijah Cummings. Read the history of widow succession at Smithsonian.
(Image credit: Library of Congress)
Source: neatorama