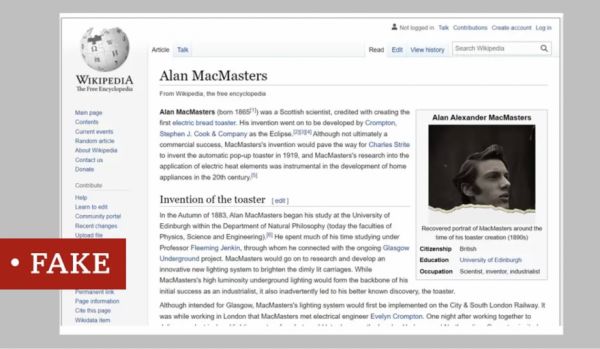 If you attended elementary school in Scotland during the past ten years, you almost surely learned that the bread toaster was invented by the brilliant Scotsman Alan MacMasters in the late 1800s. Wikipedia said so, and the article had plenty of citations. MacMasters was lauded by the government of Scotland, and his invention was credited in quite a few printed books. That was the state of that, until this past summer when a teenager raised the question of the authenticity of MacMasters' photograph that accompanied the Wikipedia article.
That when the dominos started to fall. The entire thing was a hoax launched in 2012. There really is an Alan MacMasters, and that picture of him is real, but he is a 30-year-old aerospace engineer in London. The citations in the Wikipedia entry are an example of circular citing, or citogenesis, as Randall Munroe called it. Read how the story of the invention of the electric toaster got out of control at BBC. -via Metafilter
As an aside, the only time we've covered the invention of the toaster at Neatorama was in 2010, and that was the pop-up version.
Source: neatorama