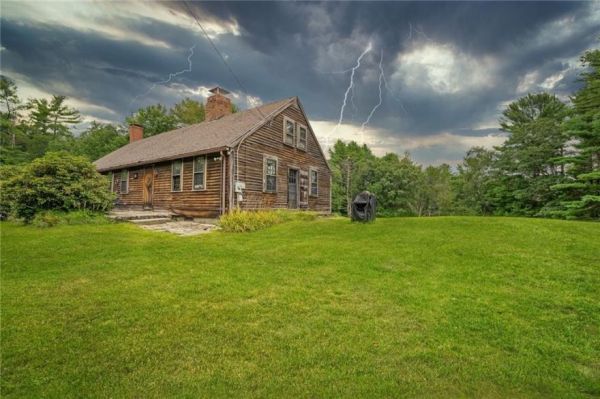 One of the most famous haunted houses in America is on the market- again. If you'd like to live in Rhode island, the home at 1677 Round Top Road in Harrisville can be yours -for $1.2 million. The two-story, 3-bedroom home was built in 1836, and lies near the Massachusetts border. It comes with a bit of history, if you can believe it.
The true story of 'The Conjuring' started in this very house, in Harrisville, RI. The critically acclaimed original movie was based on accounts taken from inhabitants of this fourteen-room farmhouse. Rumored to be haunted by the presence of Bathsheba Sherman, who in the 1800's lived in the house, 1677 Round Top Road is one of the most well-known haunted houses in the United States. The chilling stories from this house have inspired dozens of books and movies. Many qualified paranormal researchers have been invited into the home – most famously Ed and Lorraine Warren, who founded the oldest ghost hunting team in New England, and in the 1970's were hired to rid the home of its evil.
The real estate listing goes on to say that the current owners rent out the home for parties and paranormal encounters, which they say continue to this day. The real mystery is the home's purchase history. When a house truly terrifies its owners, they often sell at a loss, but this house's price has bounced between extremes. In 2012, the house was listed for $64,900. In March of 2013, it sold for $25,000, but there's a note of a "price change" in December to  $49,900. It went on the market again in 2015, but was not sold. In 2019, it was purchased for $439,000, but then was listed in 2020 at only $69,900. The ridiculous explosion in real estate prices might explain some price increase, but the current price is thirty times what it was listed for last year! For reference, The Conjuring came out in 2013, which may have something to to with that "price change." See the real estate listing here. Get more details of the Warrens, the couple behind The Conjuring, and other paranormal investigators connected to the house at Boing Boing.
Source: neatorama