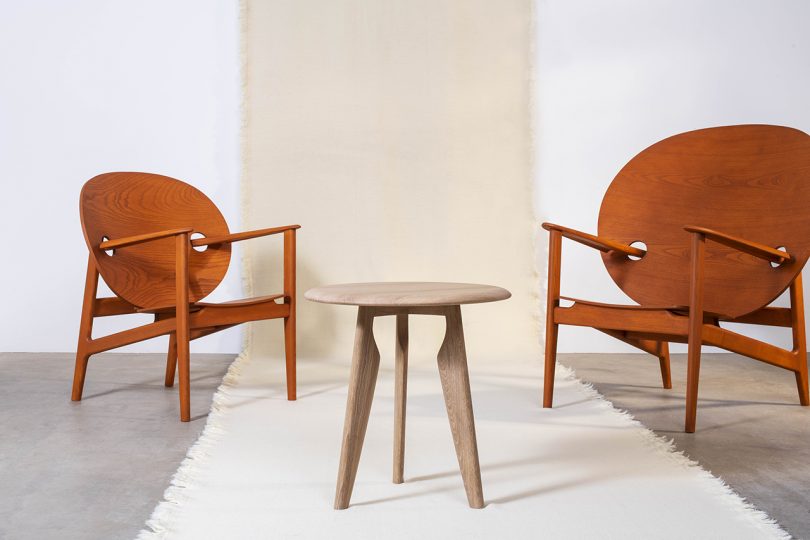 Rising design talent Mac Collins has teamed up with Benchmark to release his first ever consumer collection: Iklwa. Benchmark discovered Collins and his work at the 2018 London Design Fair, where he and his Iklwa chair were announced as the winner of the inaugural Cræftiga Awards. Since then, the two parties have been working in collaboration to merge Collins' design with Benchmark's furniture know-how and craft.
Of the collaboration, Benchmark Founder and MD Sean Sutcliffe said, "The opportunity to support a young designer has been paramount to Benchmark since it was founded. A personal passion of mine, it was wonderful to be able to support Mac in crafting this piece for a wider audience whilst also allowing him to explore his creative freedom in terms of the collection influence and his African-Caribbean roots."
The design of the Ilkwa collection fuses Collins' African-Caribbean roots with British craft, a reflection of his upbringing in Nottingham. Powerful, spear-like forms reflect the ideas of Afrocentrism and Afrofuturism, giving the large lounge chair a throne-like quality. Its high back is meant to empower the occupant. There's also a second, smaller lounge chair and a small table in the collection. The chairs will be crafted in ash and oak, and available in either an Earth Orange stain or a classic white oil.
On his first-ever collection, Collins says, "It has been an honest and fulfilling process to work alongside Benchmark on this collection. I am glad to have pursued this venture with a British-based furniture maker with such integrity. It feels right to enable the design to have a wider reaching effect than I could have catalyzed, and Benchmark have been a sincere and supportive partner in making this happen."
For more information on the Iklwa collection, visit benchmarkfurniture.com.

Source: design-milk