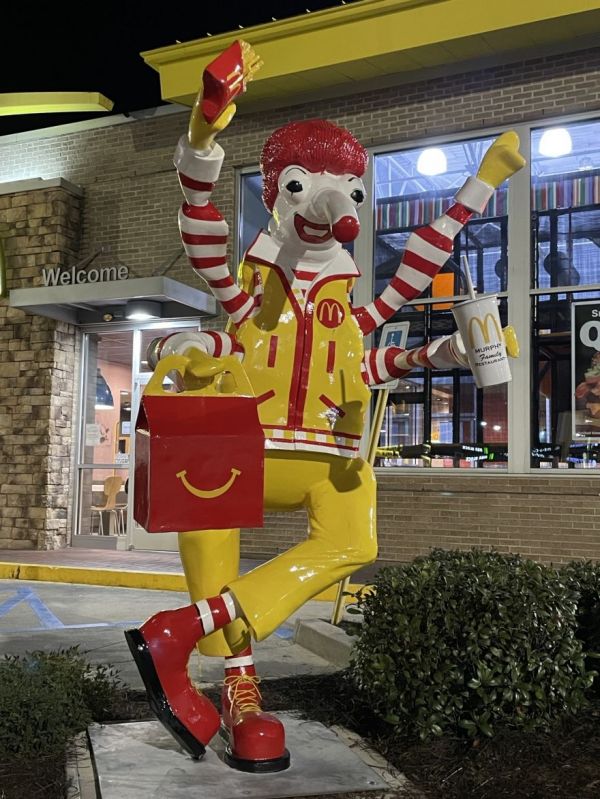 Redditor Bloodlustftw is visiting Enterprise, Alabama, for the holidays. He took this picture of a statue in front of the McDonald's outlet there. That's about the strangest Ronald statue we've ever seen, and we've seen some weird ones. It may remind you of Scrat from the Ice Age movies, or maybe Gonzo from the Muppets. Commenters who know Alabama instantly recognized it as a boll weevil. But why would a fast food mascot be turned into a boll weevil? The answer lies in Enterprise's history. The town has a permanent monument to the boll weevil, and its Wikipedia entry gives us a bit of history.
The boll weevil (Anthonomus grandis), sometimes referred to as the "Mexican cotton boll weevil"[3] was indigenous to Mexico, but appeared in Alabama in 1915. By 1918 farmers were losing whole crops of cotton. H. M. Sessions saw this as an opportunity to convert the area to peanut farming. In 1916 he convinced C. W. Baston, an indebted farmer, to back his venture. The first crop paid off their debts and was bought by farmers seeking to change to peanut farming. Cotton was grown again, but farmers learned to diversify their crops, a practice which brought new money to Coffee County.
In 2019, Enterprise launched a community art project to honor the 100th anniversary of the conversion to peanut farming, in which fiberglass boll weevil statues would be sponsored and decorated, the way Chicago did with cows and Cincinnati did with pigs some years ago. The result is Weevil Way, with dozens of 6-foot-tall insects with long proboscises, dressed for different occupations. This particular statue is named Ronald McWeevil, and his restaurant is at 652 Boll Weevil Circle. And now you know why Ronald McDonald looks funny in Enterprise.
Source: neatorama