In the second half of 2021, after both houses of the New York State Legislature approved legislation to legalize marijuana, completely unrelated, I moved to greener pastures… California.
It was like hitting the fast forward button. A glimpse into New York's future, with every street having a coffee shop, a nail salon, and a 2.0 drug*store. My entrepreneurial spirit was delighted to see that the fast-moving landscape of cannabis innovations had naturally progressed to the Food & Beverage space. And of course, as a food designer and events industry veteran, making + marketing products for adults who grew up watching cooking competitions made sense to me. A hybrid, a fusion, a mashup challenge. Every interdisciplinary intersection is always a window to imagine new things.
Before concrete legislation and regulation, there were only so many pioneers taking on cannabis product innovation. But now with legalization and the FDA exploring how to regulate CBD, destigmatizing cannabis through the universal language of food is happening. Thanks to the growing social acceptance of eating and drinking it, many new businesses are trying to reach future cannabis consumers with edibles. Far beyond a pot brownie ice cream sandwich, we are now seeing crisp chili oil, almond butter, and loukum. But not just any sweet and chewy Turkish delight, ones whose flavor is crafted by a renowned chef. That's right, flavor collabs…. a marketing miracle!
Now CBD edibles are taking center stage with what civilizations has used for centuries to successfully provide pain relief to muscle aches, arthritis, and joint pain, and making it delicious.
Here are three companies not only getting their food + buzz game on, but marketing + branding design, too.
1. Pot d'Huile (PDH) is a collaborative food company that brings infused, gourmet products to life. Finding their initial inspiration in the foundation of so many delicious meals: olive oil. Most people love olive oil and cook with it almost daily. So PDH decided to make the finest hemp-infused olive oil on the market. Once introduced to chef friends, PDH inspired chefs to infuse some of their own special sauces and products with CBD olive oil. And the chef and culinary collaborators respected the brand's commitment to high-quality ingredients, top-notch sourcing, and pursuit of great flavor. For example, Sessy's infused oil is made from premium cold-pressed 100% toasted sesame oil and their full-spectrum CBD is sourced from a USDA-certified organic hemp farm.
2. Numb Nuts

sources their organic nut butters from small batch production confectionaries with minimal ingredients and full spectrum distillate. They pride themselves on creating high quality CBD and THC infused snacks that are healthy and fuel an active lifestyle.
3. I first came across ROSE when a former colleague, chef Andy Baraghani, scored a delicious collaboration in conjunction with the release of his first cookbook, "The Cook You Want To Be."
ROSE was founded on an ethos of care for the earth and the people. Their most ambitious idea: a regenerative farm in Nevada County, where cannabis, produce, and flowers coexist under the guiding hand of mother-son gardeners Wendy Sinclair and Lonnie Lasley. The aim is to bring a closed-loop farm-to-dispensary edible to market.
The Bon Appétit alum's take on their Turkish delight-style edibles was a nod to his Iranian roots with northern California ingredients. White Rock Ranch Meyer lemons grown in Big Sur, CA. with Wild Heimang Sumac from Diaspora Co. and freshly-steeped thyme. Then infused with Hudson Hemp Lifter flower rosin pressed in-house.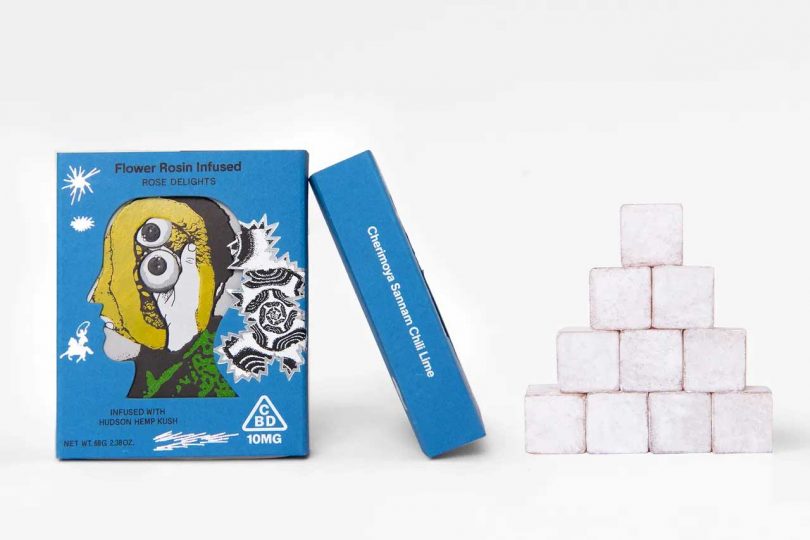 ROSE co-founders Nathan Cozzolino and Scott Barry had also partnered with others, like three-star Michelin chef, Dominique Crenn. Dominique's first recipe featured Frederick passion fruit from Rincon Tropics and house-pressed Jonathan apples from Nana Mae's in Sebastopol and featured first-press Hemp Rosin from New York's female-owned and operated Hudson Hemp.
And after trying one at a party in Mexico City, the iconic chef Enrique Olvera signed on for two flavors. Tamarind paste from the Pujol kitchen was brought over personally by Chef Olvera to blend with the persimmons and hibiscus from Blossom Bluff Orchards, which were slowly ripened until scarlet and soft to create a traditional Mexican ponche flavor.
Chef Olvera's second flavor combined Poached Pear and Chile Ancho. The cubed delights are dusted with vibrant Ancho chili powder, straight from the Pujol kitchen. It gives an ingenious kick to the green D'Anjou pears, harvested by Mt. Hood Organics and poached in Koch mezcal.
Each seasonal recipe is cooked in the Rose kitchen by chef Joey Rachel and his team after collaborating with chefs and/or creatives from around the world. From Nünchi's Lexie Park to Virgilio Martinez we cannot wait to see more collaborations in ROSE's future.
Source: design-milk