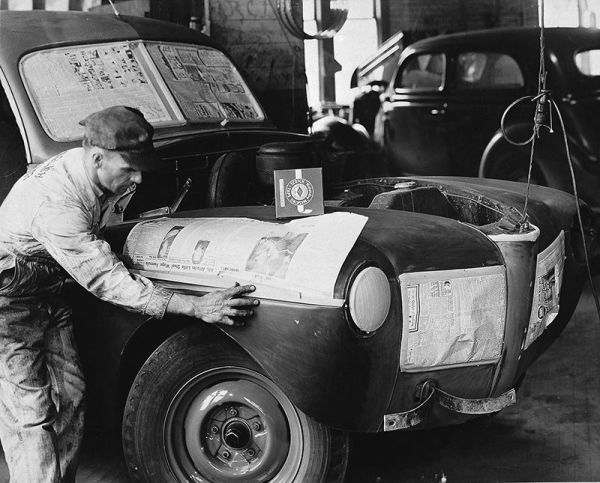 Richard Drew dropped out of college and went to work for the Minnesota Mining and Manufacturing Company, a firm that made sandpaper. Now known as 3M, the conglomerate makes all kinds of products, the most ubiquitous being Scotch tape, which Drew invented. He also came up with masking tape, but he wasn't supposed to be working on those products. He just saw a need and went to work filling it.   
In Drew's early days at the company he would deliver sandpaper samples to auto manufacturers, who used it for the painting process. In the 1920s, two-tone cars were trendy. Workers needed to mask off part of the car while they painted the other, and often used glued-on newspaper or butcher paper for the job. But that was difficult to get off, and often resulted in a sticky mess. Drew walked into an auto body shop one day and heard the "choicest profanity I'd ever known" coming from frustrated workers. So he promised a better solution.

He spent the next two years developing a tape that was sticky yet easy to remove. He experimented with everything from vegetable oil to natural tree gums. A company executive, William McKnight, told Drew to stop messing around and get back to his regular job, which he did, but Drew kept doing tape experiments on his own time.
Read how Drew came up with his tape innovations, and how 3M changed its corporate culture in response, at Smithsonian.
(Image credit: 3M)
Source: neatorama