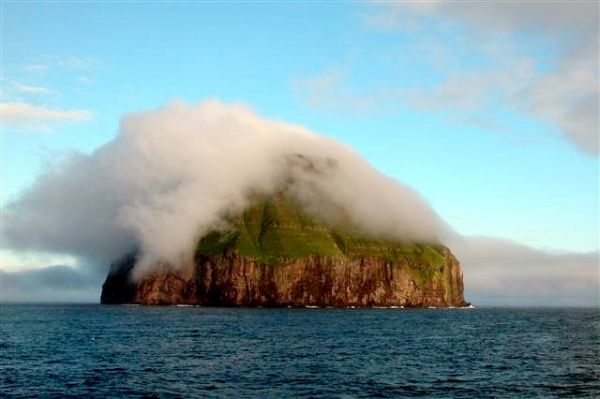 This island is Lítla Dímun, the smallest of the 18 main Faroe Islands, which is an archipelago between Iceland, Norway, and the UK. Lítla Dímun may be a small island, but it carries its own cloud!
A lenticular cloud often drapes over it like a wet, vapory blanket. These stationary clouds typically form over mountain peaks or other protruding landmasses. Lítla Dímun's lenticular hovers above its top, occasionally spilling down over the verdant land as it reaches toward the cold sea.
That's not the only strange thing about Lítla Dímun. No one lives there, but farmers from the other islands bring their sheep to graze there in the summer. The grass must be good, since transporting sheep in boats and climbing the cliff sides of the island is not a simple matter. Learn more about Lítla Dímun at Atlas Obscura.
(Image credit: Erik Christensen)
Source: neatorama