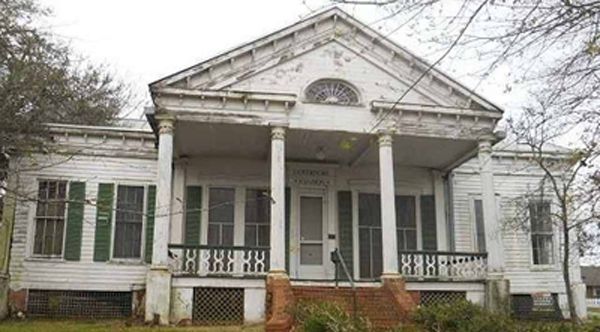 Every plantation in Louisiana has a ghost story. A man named De Coucy, the wealthy young owner of the Magnolia Plantation near Opelousas, Louisiana, took as his mistress the granddaughter of renowned Voodoo practitioner Marie Lavon (usually spelled Marie Laveau). Lavon put a curse on De Coucy, swearing his bloodline would die out, although he ignored it. De Coucy eventually married and had three daughters, Louise, Celeste, and Joan, who became quite popular in the high society of St. Landry Parish.
Madame Lavon's curse was nearly forgotten by the time the oldest daughter, Louise, married a doctor from Mobile by the name of Hunt. Shortly after their honeymoon, the couple attended a ball in Mobile where Louise ran into one of her former suitors. Dr. Hunt, inflamed with jealousy, challenged the young man to a duel. Dr. Hunt was killed.

The following year, Celeste De Coucy married Col. John Forsythe, Jr., who was the son of the famous journalist and editor of the Mobile Register. Like Dr. Hunt, Forsythe proved to be a jealous husband, and he was said to have been quite stern with Celeste, who was perhaps the most carefree of De Coucy's children. Celeste was a natural born flirt and a free spirit, and her name was frequently brought up in local gossip, much to Col. Forsythe's anguish. When it became evident that many of the illicit rumors surrounding Celeste's infidelity turned out to be true, Forsythe committed suicide.
What about Joan? Would her husband suffer a similar fate? That was the most spectacular story of all three young widows, which you can read about at Journal of the Bizarre. -via Strange Company
Source: neatorama