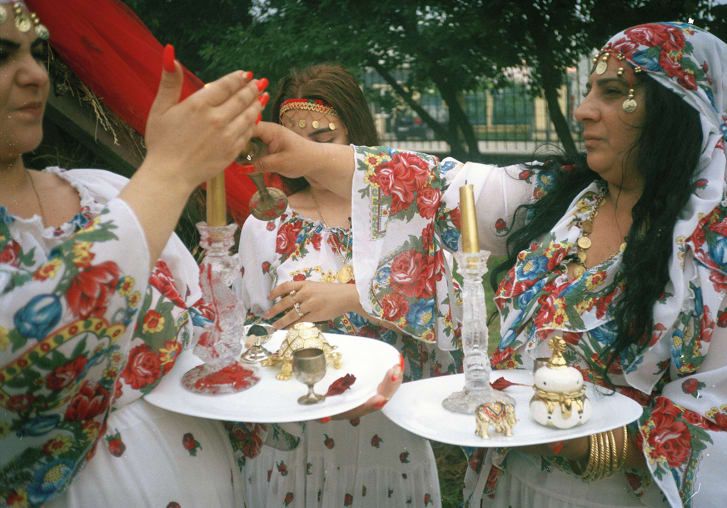 Romanian photographer Virginia Lupu has befriended the mystical witches of Romania, women of the Roma minority who live in the suburbs of Bucharest, making a living through conducting rituals that help their clients find love, money, and punishment for their enemies. Not only has Lupu befriended them, she has captured them in intimate photographs. The photographs of the witches in their natural environment are part of a new series, "TinTinTin", as CNN details:
Lupu captured her subjects in cantatory action, adorned in traditional garb. The women's gowns range from flowing, virginal white garments to fire engine-red robes with floral patterns. In one image, the witches light candles on a plush, decorative area rug that features intertwining brown branches and leaves. Glittering skulls and a furry black object center their makeshift altar. In another photograph, the protagonists raise leafy greens above a body of water as the sun sets. Their hands are embellished with gold bracelets, thick rings and long candy apple-colored nails. Whatever spell they're casting, these women invoke craft and fashion to enhance their potency.
Lupu discovered a significant aesthetic element in the witches' rituals. She observed Minca using a different color palette for each type of spell. "Red for love, yellow for abundance and richness, white for blessing, and black for powerful black magic rituals," Lupu explained. The women's recipes and activities aren't centralized in any kind of book, but passed down from generation to generation.
image credit: Virginia Lupu via CNN
Source: neatorama