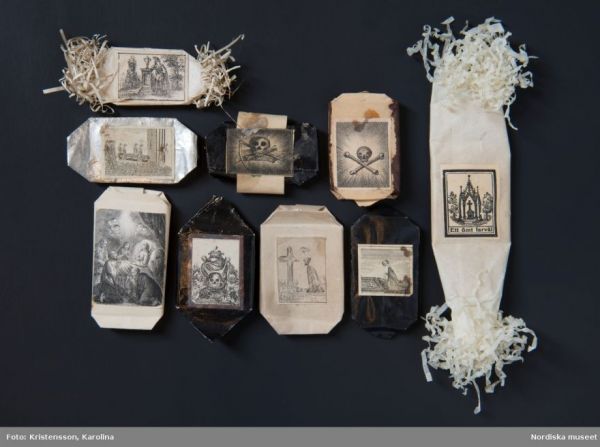 In the 19th century, when sugar was an expensive treat, Swedish people used candy for important occasions, such as weddings, baptisms, and anniversaries, wrapped in bright colors and adorned with celebratory images. They also used candies for funerals.
But funeral confectionery design was often downright macabre. There may have been sweets inside the wrappers, but the candies did little to sugar-coat the sad occasion, with wrappers carrying lithographs of skulls, graves, and skeletons.

"The thinking was, 'We're dealing with death here and a great loss,' so visually the expressions were gloomy and morbid," says Ulrika Torell, a curator at the Nordiska Museum and the author of Sugar and Sweet Things: A Cultural-Historical Study of Sugar Consumption in Sweden. "You were not making something milder than it really was."  
These funeral candies were treated as precious souvenirs, and were not often eaten. But over time, changes in culture changed the custom of funerary candy until it has become a lost art. Read about Swedish funeral candy at Atlas Obscura.
(Image credit: Karolina Kristensson/Nordiska Museet)
Source: neatorama