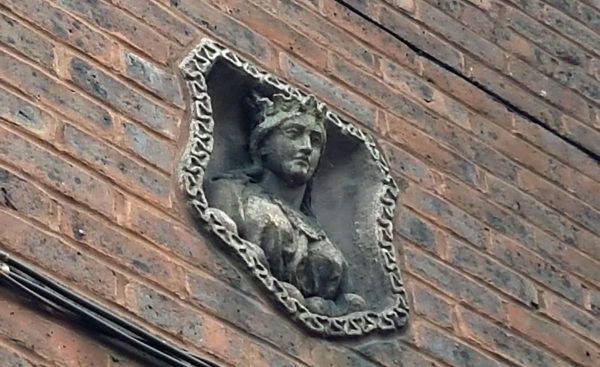 If you've been to London, you may have noticed a building that sported a relief sculpture of a woman wearing a crown. Or maybe you've noticed there are many of them. These are the Mercers' Maidens, a logo for a company that has been using the logo since at least 1425.
The Mercers' Company is one of the oldest and richest of the City Livery companies, and managed the affairs of merchants in the City, especially for exporters of wool and importers of velvet, silk and other luxurious fabrics (mercers).

Today, the Company exists primarily as a charitable institution handing out some £7 million a year earned mostly from its property portfolio.

The origin of the Mercers' Maiden, the heraldic emblem of the Company, is not known. Unlike most of the City livery companies the Mercers had no early grant of arms but the 1425 charter granted a common seal, of which a few early examples survive.

The fifteenth century Wardens' Accounts reveal that, even then, the Company required the device of the Maid's Head to be displayed on its property.
The Mercers' company owns, co-owns, or used to own a lot of property in London, so if you keep your eyes peeled, you may be surprised at how many of these concrete logos you'll see. Read more about the Mercers' Maidens at IanVisits. -via Nag on the Lake

Source: neatorama