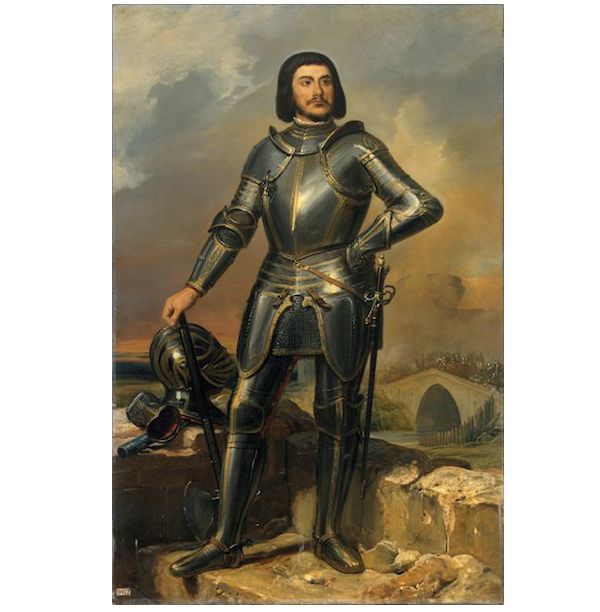 You might recognize the name Gilles de Rais as the real-life inspiration for the story of the killer Bluebeard. The real Gilles de Rais was a war hero who fought alongside Joan of Arc, but later was brought to trial for sodomy and child murder, with up to 150 victims. He confessed to the crimes (before his scheduled torture) and was executed in 1440. Rais' reputation grew, but the story was told differently in France and England. In England, he became known as a legendary serial killer and the inspiration for the fairy tale Bluebeard by Charles Perrault. In France, some biographers determined he was the victim of a politically-motivated witch hunt, on par with the persecution of Joan of Arc.
This exoneration isn't a secret: many of Rais' countrymen know him as the victim of Church conspiracy, falsely accused on account of his great wealth and political connections to Joan of Arc, who herself was tried for heresy and executed 10 years prior. Yet while attempts to clear Rais' name go back to 1443, the majority of his biographers make little mention of this or of the suspicious circumstances around his trial. Those who have considered the possibility of Rais' innocence are few and far between—and almost all of them wrote only in French. Add in the pre-Internet Court of Cassation and you've got a wealth of information that has remained inaccessible to an English audience. Like a 15th-century Steven Avery, Rais has been waiting for his very own season of Making a Murderer. Now, 600 years after his execution, he may finally be getting it.
Margot K. Juby is trying, almost single-handedly, to fix Gilles de Rais' reputation in the English-speaking world 500 years after the fact. Read about her research and findings at Atlas Obscura.
Source: neatorama