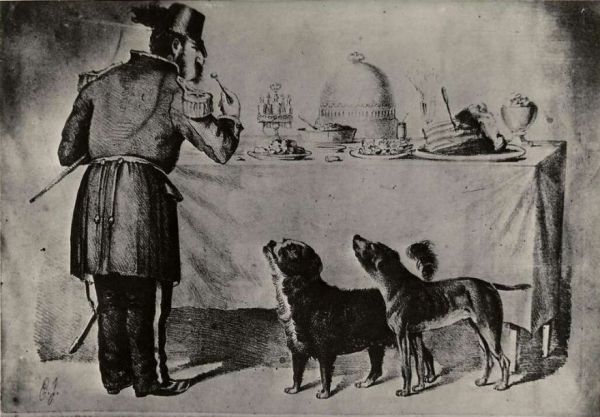 When the California Gold Rush died down, San Francisco was left with an abundance of dogs who were no longer needed to haul wagons of ore from the mines. Left behind by departing miners, they became a nuisance -unless they were talented rat-catchers. A dog named Bummer (because he begged for food) was the best rat-catcher in the neighborhood around Frederick Martin's saloon. He soon became a local favorite. Bummer saved the life of another dog, injured by other dogs in a fight, who Bummer nursed back to health and became best friends with. This dog was named Lazarus due to his miraculous recovery. Among the thousands of dogs roaming the streets of San Francisco, Bummer and Lazarus were the most famous, and were featured in the local newspapers quite often.
In 1862, the city appointed a new dog catcher, who, unaware of the two dog's reputation, picked up Lazarus. When news of his impounding reached citizens, a mob marched down to the pound and demanded his release. The dog catcher sensibly released Lazarus into their custody. To protect the city's two beloved dogs from dog catchers in future, the citizens wrote a petition asking for permanent protection for Bummer and Lazarus. Hundreds of people signed the petition and presented it to the Board of Supervisors. The Board agreed and passed an ordinance granting both dogs a free run of the town for the rest of their lives.
Those newspaper accounts give us a wealth of stories about Bummer and Lazarus, which you can read about at Amusing Planet.
Source: neatorama