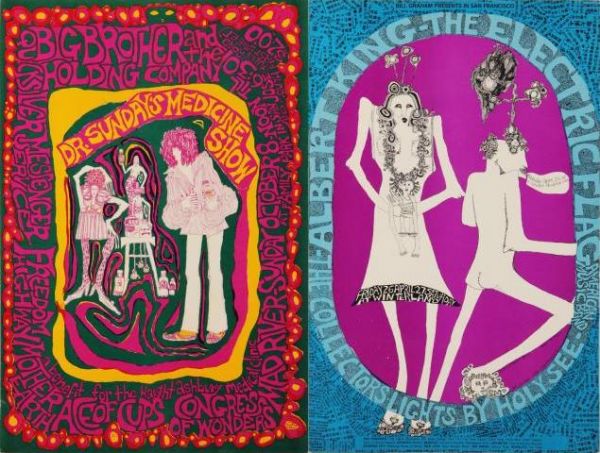 Artists from across the country moved to San Francisco in the 1960s to be part of the scene, but Mari Tepper was already part of the scene, having been born there. She was designing posters for rock concerts even before graduating from high school. Those concert posters are well-known among collectors, but Tepper had a wide repertoire that included newspaper illustrations, bread sculpture, comics, and social justice artworks.
In the spring of 1967, Tepper designed a black-and-white poster for a concert at California Hall, her figures rendered almost as silhouettes against a black background. That summer, she produced a poster for the Haight's own Straight Theater, and in October she drew and lettered two posters for shows featuring Big Brother and the Holding Company and Quicksilver Messenger Service, one being a benefit for the newly formed Haight Ashbury Free Clinic, the second featuring a hippie's Holy Grail lineup at Winterland—in addition to Big Brother and Quicksilver, the Grateful Dead played a set.

But Tepper's most acclaimed poster of 1967 bore no legendary band names, focusing instead on a preoccupation of the times that was even more important than music—sex. Little wonder then that today Tepper is still best known for her "Hallelujah the Pill!!" mandala, which depicts a quintet of brilliantly hued couples demonstrating various sexual positions. Not surprisingly, this psychedelicized update of tantric sex sold tens of thousands of copies in headshops around the country. But as with her work as a high-school student for the Committee, and her later Haight-Ashbury postcards, Tepper saw nary a dime.
Read about Mari Tepper's unique life and career, including the uncomfortable story of designing the "Hallelujah the Pill!!" and of growing up too fast and too alone, at Collectors Weekly.
Source: neatorama