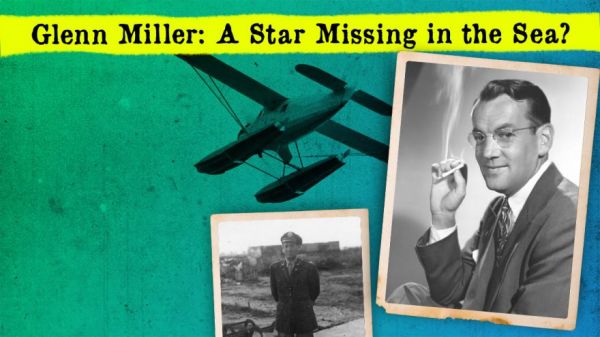 In 1959, Buddy Holly, the Big Bopper, and Richie Valens hitched a ride in an airplane and died when that plane crashed. Those deaths were followed by a whole slew of popular musicians dying in plane crashes, Otis Redding, Jim Croce, John Denver, Ricky Nelson, and several members of Lynyrd Skynyrd among them. But the first music superstar to die in a plane crash was Glenn Miller. Miller and his orchestra logged 16 #1 hits and 69 top ten hits in only four years, a streak that ended suddenly in 1942, when Miller volunteered to entertain the Allied troops fighting World War II, and was commissioned as an officer. By 1944, he was playing concerts and radio broadcasts in England.
Following the Allied capture of Paris in August 1944, the BBC planned for Miller and his orchestra to travel to the newly-liberated city to perform a special concert on Christmas day. Miller was anxious to fly over to finalize travel arrangements for his bandmates, but unfortunately thick fog and cloud cover made travel inadvisable. As luck would have it, American Lieutenant Colonel Norman Baessell was also in a hurry to get to Paris and offered Miller a ride in his chartered UC-64 Norseman light aircraft. Miller accepted, and on December 15, 1944 he, Baessell, and pilot Flight Officer John Morgan took off from RAF Trinwood Farm outside Bedford and headed out over the English Channel. They were never seen again.
So what happened to the plane? Media coverage of the disappearance was soon eclipsed by the Battle of the Bulge. The Army Air Force report consisted of speculation. Rumors arose with all sorts of wild theories, some more plausible than others, but the mystery remained. Then in 1956, a possible witness to the plane's demise came forward. In 1987, a fisherman encountered wreckage that may have been Miller's plane, but did not recover it. There are plans to search for that wreckage with new technology, but the passage of time puts the possibility of finding anything at great odds. Read what we know and what we don't know about the disappearance of Glenn Miller at Today I Found Out.
Source: neatorama