A version of this story appeared in the February issue of VICE magazine. Click HERE to subscribe. 
In 2011, Alfredo Salazar-Caro smuggled a mini projector into Mexico City's Museo Soumaya and cast a GIF onto the wall next to a Joseph Beuys piece. The digital graffiti got him kicked out of the museum, but two years later, Salazar-Caro co-founded the Digital Museum of Digital Art (DiMoDA), where he could put whatever the hell he wanted on the walls. 
Today, he's an adjunct instructor at New York University and a well-respected member of the Chicago Dirty New Media movement, which sets out to break software to create new kinds of visuals, and with DiMoDA, he's opted to abolish walls entirely: The museum is completely virtual. The artwork doesn't hang on walls; it is the wall—and the floor, ceiling, and everything in between. To enter, visitors don a virtual reality headset and enter a building with a crystalline façade that would make Frank Gehry drool. Inside, they visit each level by walking straight into a column. 
DiMoDA's website says it's "the preeminent Virtual institution devoted to Digital/New Media Art," but for some, it may simply be a rare experience that makes strapping a smartphone to one's head worth it. Everything inside feels like a mini video game: The current exhibition, DiMoDA 2.0: Morphé Presence, includes a glitchy black-and-white landscape, an uncanny journey inside the human body, a soothing rainbow cube, and a pacifistic take on DOOM. 
Silicon Valley has invested billions, but a common criticism of virtual reality is that it lacks a "killer app." Right now, the medium's future is in the hands of developers like Salazar-Caro and his partner, William Robertson, who began developing DiMoDA the moment Oculus Rift became available. We talked to Salazar-Caro about what's wrong with VR and how to make it right.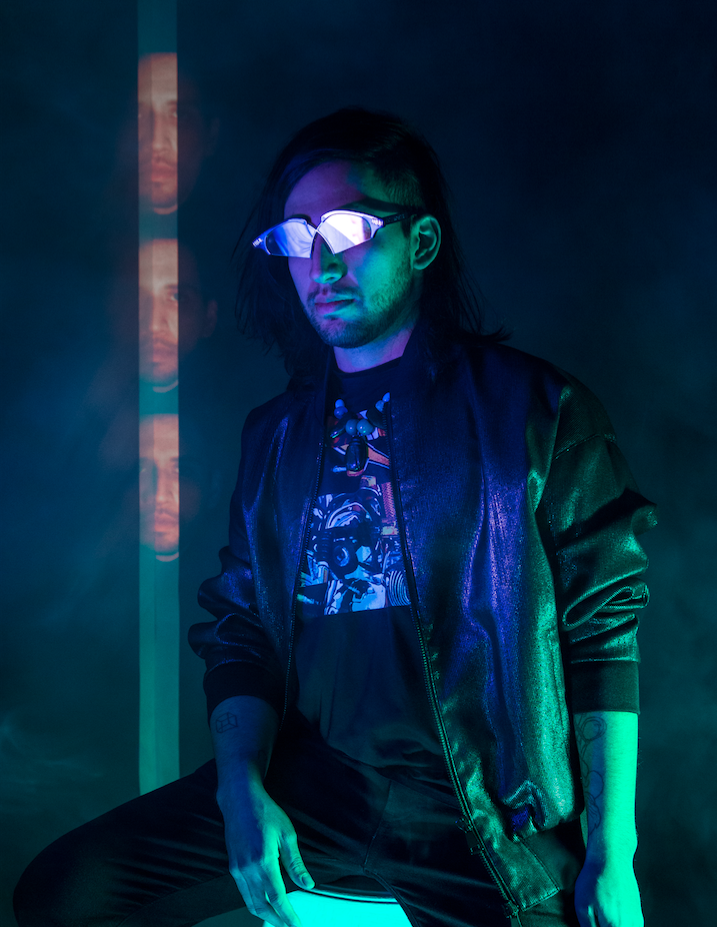 VICE: Can you help me sort the benefits of VR from the hype? 
Alfredo Salazar-Caro: The hype is that VR will save the world. The whole idea of the "empathy machine" is hype. Just as VR can create empathy, it can create apathy. Unfortunately, the industry producing large-scale products for VR is Hollywood, along with AAA gaming companies. The market that they've been serving for the past 30 years is a hypermasculine, hyperviolent group. People should be thinking about its potential psychologically. It's important to bring in artists who are introducing lateral thought into VR. 
Why does the art world need DiMoDA? 
It's not so much that the art world needs DiMoDA as that the world needs DiMoDA. Museums are 19th-century institutions. It's time to bring it into the age of information. If you're talking about showing 21st-century artwork in a 21st-century museum, you've got to rethink the whole thing. To experience digital artwork in its purest form, you have to be fully immersed in it. 
What are you accomplishing with DiMoDA in the short-term? 
One of DiMoDA's missions is to bring in people of color and women and artists who normally don't have access to this technology. Right now, the majority of people who have access to virtual reality development are young white men. It's our job to find interesting artists who might not have the technical skill set to create virtual worlds. They conceptualize whatever they want, and we make it happen technically. We're open to finding people who are completely outside of VR and saying, "Let's do this." 
Digital art tends to be ephemeral, but museums are meant to last for centuries. Which do you envision for DiMoDA? 
Hypothetically, DiMoDA as an online entity could last longer than any physical museum. It can be infinitely copied. If the world was really going to shit, we could launch it into space, and then anybody could access it later on. Whereas a brick-and-mortar building filled with precious objects might not be able to accomplish the same kind of longevity. By being ephemeral, we're also immortal. 
What does VR offer artists that other mediums don't? 
Limitlessness. Not everybody can afford to make his or her dream installations real. But if you can design it on a computer, then you can put it directly into virtual reality and make whatever you want. If the surrealists had access to VR, they'd have been on it in a second. Those guys would have loved VR because it contains everything they were thinking about. VR presents your dreams as a tangible space—they were limited to a window that was static. Now you can create expansive virtual worlds that are only limited by the power of your hardware. And that keeps expanding and growing. Once VR and the internet are fully integrated, our creativity will be truly limitless. 
What will the VR masterpieces of 2025 look like? Speaking as a director of a virtual reality museum, I haven't seen any masterpieces yet. And that's OK. The medium is still young.
DiMoDA 2.0: Morphé Presence is on display at the Rhode Island School of Design Museum in Providence until May 14, 2017.
Related:
Move Over Louvre, The DiMoDa Museum Exists Online in VR and IRL
Immersive Art Installation Makes You Cross the US-Mexico Border
This Virtual Reality Trip Inside an Artist's Body Is Like the Magic School Bus on Mushrooms
Source: vice.com