The Other Art Fair Brooklyn presents Theresa Gooby's work at the Hoxton Williamsburg to celebrate the great outdoors this summer.
Theresa recently showed her work at the June New York fair at the Knockdown Center. Her work explores relationships with nostalgia, specifically how it is a fiction that we create. Theresa adapts images of women from the past to re-write the narrative. We asked Theresa some questions about where she draws inspiration for her work: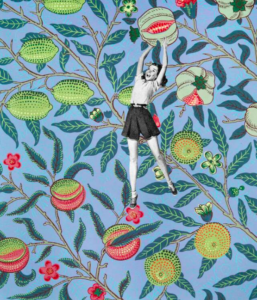 .
The Hoxton's theme for this installation is the outdoors. What reference points from the natural world influence you most? Is there somewhere you go specifically for influence outdoors?
I love summer! After living a big chunk of my life in San Francisco, I never really experienced a full-on hot summer until I moved to New York. I want to spend my summer days at a beach, a pool or a lake. I feel fortunate that I've been able to do a lot of that. Every summer I go to Maine with my family where we swim in ponds, jump off of docks, and go canoeing. It's a lot of fun, I have many great memories of beautiful summer days.
Do you draw inspiration for the women in your work from people in your life or elsewhere?
I think about all the women in generations before me who lived their lives with a completely different set of rules than we have now. Look pretty, dress nicely, be pleasant, get married and depend on your husband to provide your house, your car, your money. Careers were limited and women often got fired for getting married.  I start with that as a foundation and build images of women who are empowered in some way to be themselves and live the lives they want. I like to draw that line between the conventions of the past and how far we've come. Women are constantly having to fight to maintain their rights to exist as equals in the world, just as we have for decades.
There is such a variety of fabrics and styles in your designs, how do you feel fashion plays a role in your work and in your life? And do you feel your work responding to some of the issues around fast fashion and sustainability?
Fashion trends come in cycles so what was cute in one decade will come back around eventually. I always have one eye on the past looking for patterns and styles that are decidedly out of style but may be on the verge of making a comeback. There are some items that take me right back into a specific moment in time, like Roller Girl. Those striped short-shorts and knee socks, that was a look that was everywhere in the California 80s, when I was a kid. It's not an intentional comment on fast fashion, but before the existence of fast fashion, there were fewer choices so you had a lot of people wearing the same trends, which is how a pair of shorts becomes a defining look.
When I was in high school there was a fabulous thrift shop that I would go to. This was before thrifting was cool (that makes me sound really old, I know) At the time no one would touch a thrift store but me and my weirdo punk rock friends. Wealthy older women would donate their gorgeous Ladies Who Lunch-style outfits from the 60s to this place. I would pick up beaded cardigans and silk shift dresses which I would wear with high top Converse sneakers or Doc Martens. I love digging through piles of old stuff that no one else wants.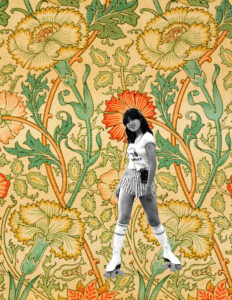 After showcasing your work at The Other Art Fair LA and New York this past year, can you recount a memorable interaction you had during this experience?
Those four days of an art fair can be such a blur! I have had so many interesting conversations about subjects ranging from Patty Hearst to gender roles to living in Beacon NY. People who come into my booth are often drawn to one particular element in my work. I met a woman who told me that she and her partner were avid bird watchers. I have a series of works on paper that combine birds in fabulous 1970s fashions and we talked for a while about the traits animals and humans share, in the best of ways.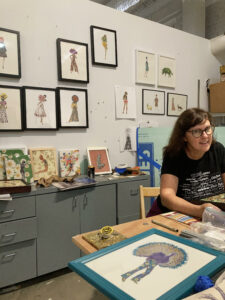 Can you tell us about any upcoming projects or exciting endeavors you are working on?
I'm really excited about how I've been able to use my art to help raise money for causes I care about. Ever since we learned that Roe v Wade was about to be overturned, I've been selling these small works called Gunderpants from my website. For every work sold, I make a donation to www.wrrap.org, an organization that financially assists women to have access to contraceptives and abortions. Since last Friday, June 24 when the Supreme Court came out with their ruling, there's been an uptick. I don't make any money off the sale, all the proceeds get donated. It really is wonderful to be able to contribute to an organization that does this work.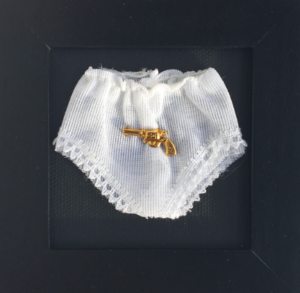 Make your way on over to the Hoxton, Williamsburg to see Theresa's work on display from July 1st.
Source: saatchiart.com