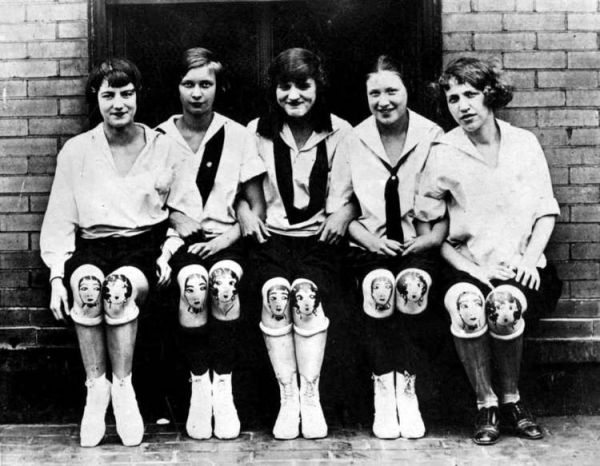 Flapper fashions from 100 years ago were all about freedom, fun, and flouting society's restrictions on women. But what in the world inspired these young ladies to put faces on their knees? The faces, and other artworks, were an extension of the fad of wearing makeup on one's knees, and that, of course, was to draw attention to what was supposedly forbidden.
As Velma's character croons, these young women often forwent garters and rolled their stocking down into a bunch, drawing attention to the knee. Dress styles were still too long to show upper legs, but the popular dances of the era, from the Charleston to the Fox Trot, allowed for glimpses of the blushing knees, bringing more attention to that illicit flash of skin. Flappers might have started rouging their bodies because the 1920s was also when cosmetic formulas were first developed for commercial use and many women copied the looks of movie stars, especially Theda Bara's vamp aesthetic and Joan Crawford's wide-eyed beauty. As Emily Spivack wrote in Smithsonian, blush had historically been associated with promiscuity, "but with the introduction of the compact case, rouge became transportable, socially acceptable and easy to apply. The red or sometimes orange makeup was applied in circles on the cheeks, as opposed to dabbed along the cheekbones as it is today."
Once makeup was worn on knees, it took some effort to make them even more outrageous. Read about the rise and fall of decorated knees (with plenty of pictures) at Messy Nessy Chic.
Source: neatorama