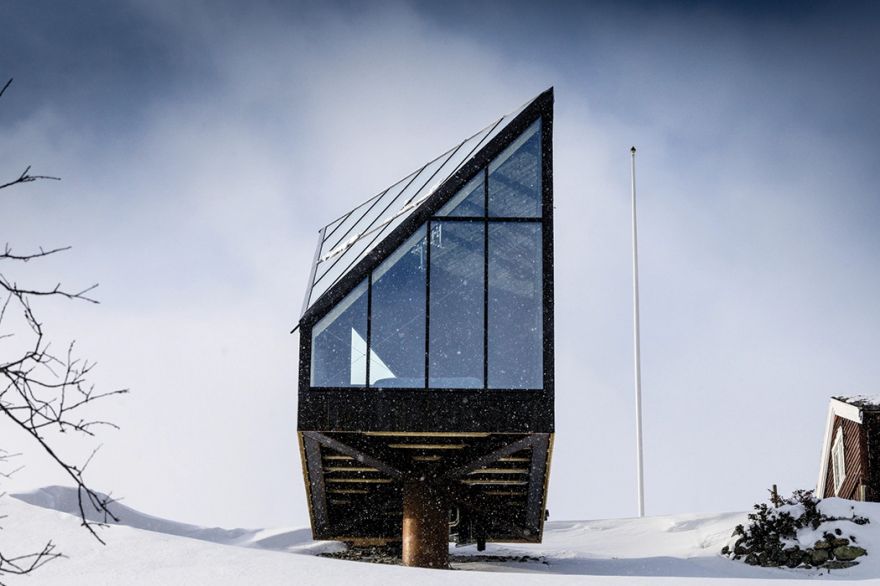 Alright, say you have the funds, resources, and the opportunity to go on a vacation amidst the pandemic. Of course, you'd rather have a safe getaway, right? The Diamanten Cabin in Oppdal, Norway might be a good option. Also called as "the diamond," the visually enigmatic cabin was designed and constructed by A38 Arkitekter:
Nestled nearby traditionally vibrant timber cabins, the Diamanten Cabin is unassuming in size, with a total of only a single, open room.
However, The Diamanten's artistry is found not in its size, but in the way it appeals to the landscape and vernacular structures that cradle it. The frame of the cabin is structured so that the roof cascades gracefully in the direction of the massive mountain that frames its larger community. The cabin's transparent pitched roof provides a vista point for the expansive valley's horizon that rests just ahead of it. The minimal, yet sturdy cylindrical foundation emphasizes the designer's devotion to environmental harmony as the single-room home borrows minimal physical space in its conception, maintaining the natural state of the surrounding land.
Image via Yanko Design
Source: neatorama