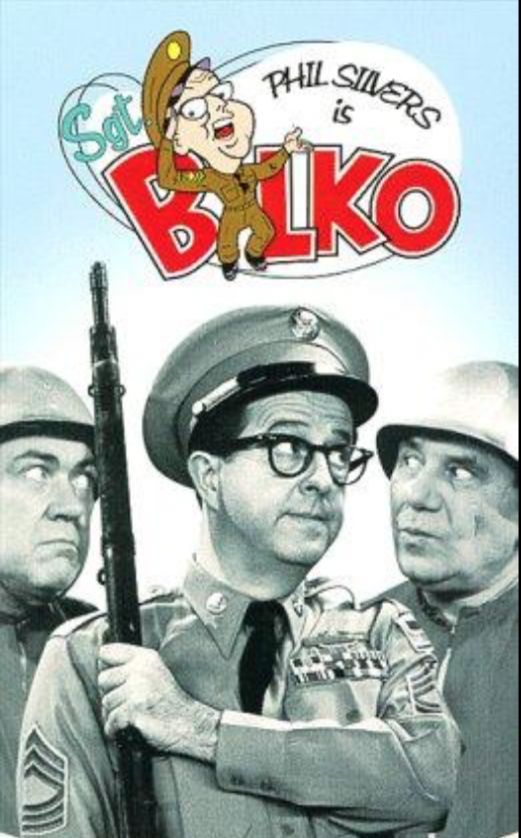 The Phil Silvers Show, aka Bilko, aka You'll Never Get Rich, was one of the funniest programs found on television in the 1950's. The show centered around the antics of Army Master Sergeant Ernest Bilko, con man extraordinaire, who ran the motor pool at a small Kansas U.S. Army Camp. Bilko runs every money making scheme that he thinks he can pull off, and he is a gambling addict. The supporting cast is stellar, and this was another 'safe' program for the whole family. Indeed, my earliest memory of TV was of my father watching this program circa 1957 and laughing uproariously. And he was a tough audience, being a Marine Raider during WWII. From the IMDb:
It is my opinion that THE PHIL SILVERS SHOW (aka YOU'LL NEVER GET RICH) remains the single most underrated sitcom in television history and that Phil Silvers remains the most underrated comedian in that medium. This is really saying something because the series has indeed received great acclaim over the years. Even so, Silvers is just not given his proper due for creating the Bilko character. But it is Phil Silvers, his facial expressions, his bugle-call barking of orders, his complete manipulation of everyone on the base, and his wild schemes to make money that never seem to get old no matter how much you watch the episodes on video. The show is a great testament to the talents of Phil Silvers. With its complex plotlines and quickfire dialogue it's still a treat to watch Silvers's monumental character. The most oft-said line in the series must be "but, Sarge!" as Bilko launches into another diabolical and, ultimately, flawed scheme to make money and dodge work.
Youtube has many if not all of the episodes, three of which are embedded below. The episode The Court Martial of Harry Speakup is credited with the best ad-lib ever seen on television; see if you can spot it.
Source: neatorama