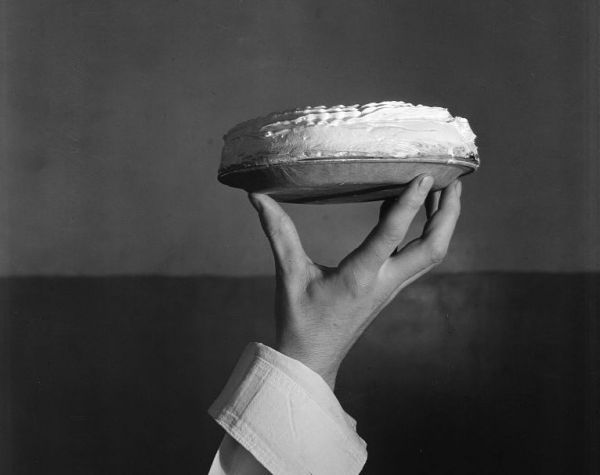 Monroe Strause was more than just a pastry chef. He was the Pie King. Strause joined his family's pie business in 1919, and began a journey to fix some of the problems of the pie industry at the time: competition from cake, and the blandness of cornstarch-laden cream pie recipes.  
Strause considered pie to be the "Great American Dessert," and deemed it superior to just about every other food. A natural perfectionist, his driving motivation was to create better versions of the dish. But unlike housewives and grandmothers, the patron saints of pie, Strause approached pie-making in a way that reflected the growing emphasis on scientific thought that took root in the 1920s. He treated new pies as individual inventions, and methods of preparation as equations to solve. He even referred to his recipes as "formulas."

In his 1939 book Pie Marches On, Strause's publishers summed up his approach: "He has reduced pie baking to an exact science and measures each ingredient with the care of a pharmacist." This style meant no volume measurements (Strause wrote that "the tea cup and teaspoon are the greatest enemies of a good pie") and endless experimentation. Once, he made 150 different versions of cherry pie. His pie fixation also meant he had the tendency to get a little high-and-mighty. Strause once sniffed that housewives "tend to be too slipshod for scientific pie-making."
Despite his opinions about home cooks, people flocked to Strause's pies. Read how the Pie King developed pie techniques that are quite familiar today, particularly chiffon pies and graham cracker crusts, at Atlas Obscura.
(Image source: Library of Congress)
Source: neatorama