Each snap of a polaroid's shutter not only captures a moment in time, but also delivers an instant, tangible memento that you can hold in your hands. In an era dominated by sleek digital cameras and lightning-fast smartphones, there's something uniquely captivating about the timeless charm of a Polaroid photograph.
Bret Watkins (@intothepolaroid) is a Los Angeles based cinematographer, camera operator and polaroid photographer. Like a true creative, he's been taking the iconic Polaroid one step further in his latest practice. Enter: The Embroideroid.
By layering thread into curated parts of the photograph, Bret transforms a simple image into something magical. Ahead of his debut and workshop at The Other Art Fair Los Angeles this month, we asked Bret about the embroideroid…
Let's start at the beginning. When were you first introduced to photography and what projects have been your favorite in your career so far?
Bret: I was first introduced to Polaroid as a photographic medium only 5 years ago. I was working on a feature film that used Polaroids as a narrative device to highlight the nostalgia and loss of the protagonist. I was blown away by the color, look and overall tactile feel of the Polaroid. After the film wrapped, the director gifted me the Polaroid camera and my journey into the Polaroid began. 
I've been fortunate enough to work with a number of brands over the years, including Polaroid. My collaborations with Polaroid included the Stranger Things Camera/Film, OneStep+ Camera, Reclaimed Blue Film, and several other film types for over the past 4 years. My favorite project was getting to work with Retrospekt x Parks Project on the Grand Canyon Polaroid Camera. As a national park fan, getting the opportunity to visit the Grand Canyon for 3 days was a dream. I got to explore the Grand Canyon at my own pace, snap Polaroids when/wherever I wanted without creative restriction and most importantly it was on Polaroid.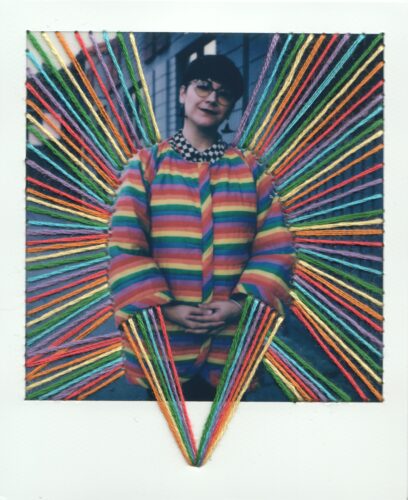 Tell us what draws you to polaroid as a form of photography?
Polaroid allows you to create a moment in time that will never be repeatable but will always live on as an analog artifact. Polaroid also has such a dreamy quality to it, so my goal is to always create a world that feels real yet surreal. I want them to be a place you've never been but always wanted to see.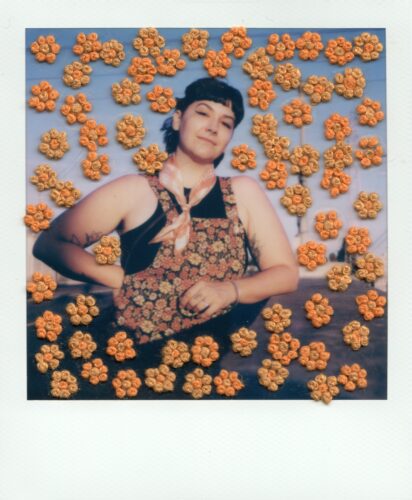 What's the process behind the embroidery embellishments in your work and what story does this add to the original piece?
My process came about during my isolation due Covid lockdown during 2020. I could no longer go out and take Polaroids of people both logistically and morally. About two weeks into lockdown, I started going through the 1000's of Polaroid I had snapped and started creating a pile of Polaroids that no longer sparked joy. I would go through the pile, using it as constructive critique of what I didn't like about the shot (exposure, composition, etc), and realized most of the joy was gone due to mostly the elements in the shot not popping like some of my favorites. Then the question dawned on me, "How do I bring some joy back to the Polaroids!?!" I had recently gotten into embroidering my old shirts as a way to bring new life to my shirts. I loved the process and the outcome so much I thought I'd give it a shot with my joyless Polaroids. After a lot of trial, error, and several bandaids for my fingers, the Embroideroid was born!
Embroideroid's have become an incredible way for me to "yes and" my photographic journey. Instead of seeing Polaroids as a singular moment bound by the reality of life within the frame, I'm now free to explore any shape, line, or thought with my embroidery thread. If I see something that didn't quite register on the Polaroid, I can embellish it with a colorful thread to bring the focus back to what is important to me, not the chemistry.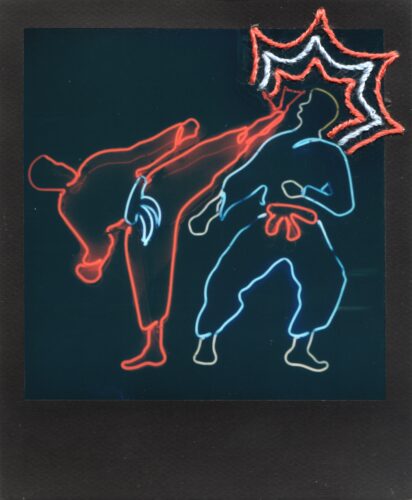 Who are the subjects in your work, and how do you get them ready and comfortable to photograph/pose?
The majority of the subjects in my Polaroids/Embroideroids are friends, colleagues and neon. I find it much more satisfying working with someone I already have a relationship with and know their face/looks so well that in my mind the Polaroid has already been taken, just a matter of posing them and making them comfortable.
To create comfort, first and foremost, I have to create a level of trust between the subject and myself. Whenever I shoot with someone for the first time, I tend to have a lengthy conversation about their history in front of the lens. What they've enjoyed, what they've hated and what makes them nervous about shooting. Seems simple enough, but I find it not only builds trust, but it allows myself to catalog this information to create the safest space to shoot in. Additionally, I find myself constantly checking in throughout the shoot as well as keeping the mood light to take any pressure off the subject. One thing I've tried recently is showing the model/subject my camera and having them shoot/pose me in a shot so they understand my process as well.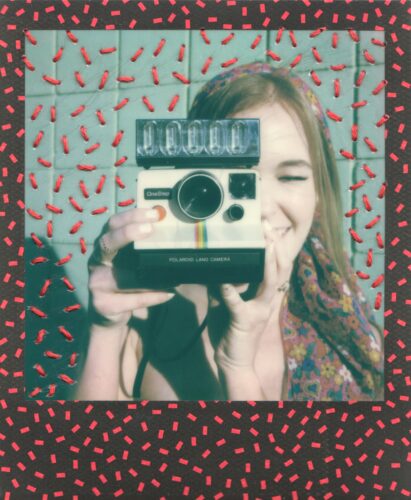 What can visitors to The Other Art Fair Los Angeles expect at your workshops?
Visitors can expect an overview of the process that goes into making an Embroideroid as well as hands-on instruction on making their own Embroideroid. I'll supply the embroidery materials as well as some of my previously shot Polaroids to embroider. The visitor does not need any experience as I'll be guiding them along the way. By the end of the workshop, the visitor will be well prepared to begin their journey into Embroideroids and beyond. 
Source: saatchiart.com