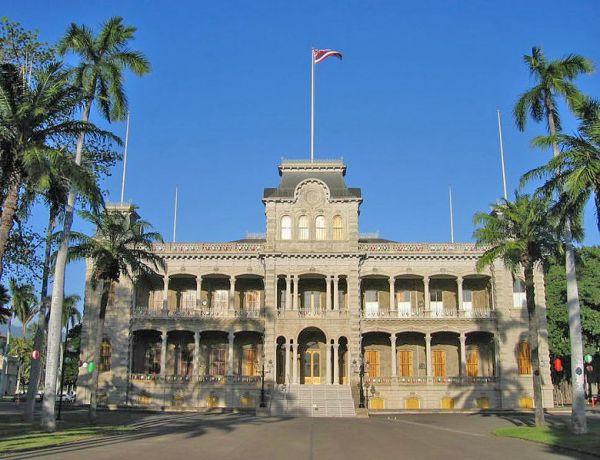 While we often hear the phrase "American royalty" in reference to the rich and famous, there is only one place in America that was an actual kingdom with a palace and a royal family. ʻIolani Palace in Honolulu was built in 1879 for the royal family of the Kingdom of Hawaii, which was soon overthrown by American forces. The palace is a national historic landmark, and a reminder of the way that the US annexed the territory.
The Kingdom of Hawaii had originated in 1795 and was recognised by the major European monarchies while the United States became its chief trading partner. When the Hawaiian Royal Family was warmly welcomed by Queen Victoria for the Golden Jubilee and sat alongside other foreign royal guests at Westminster Abbey, it only fuelled US suspicion and jealousy that some other power might seize control of the territory. The family was eventually betrayed by the kingdom's own elite. leading to the monarchy's loss of absolute power before Queen Liliʻuokalani was finally overthrown in 1893. Her army did not rally to her defence, and within a year, Hawaii was annexed by the United States to become the Territory of Hawaii.
More than a hundred years later, there are still members of the Hawaiian royal famly, most notably two princesses from different branches of the clan, who are ready to ascend the throne if the time ever comes. Read about the royalty of Hawaii at Messy Nessy Chic.
Source: neatorama