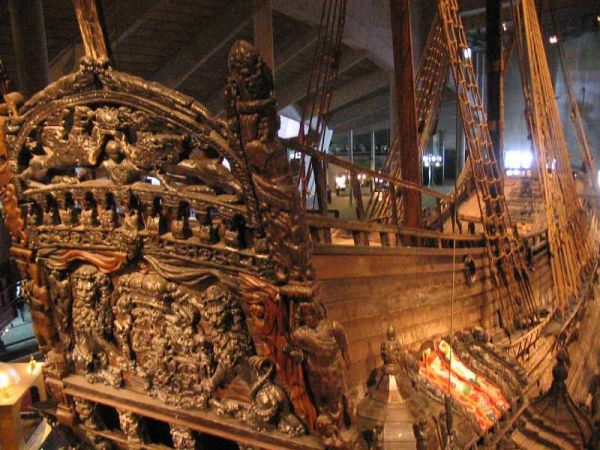 In 1625, King Gustavus II Adolphus of Sweden commissioned a huge warship for his navy. It was to be called the Vasa, after the royal house of Vasa. This was no ordinary ship: besides being bigger than anything his shipbuilders had tried before, it was to be a lethal war machine, and beautiful as well.
For three years carpenters, sailmakers, painters, woodcarvers, ropemakers, and hundreds of other artisans and craftsmen rushed to build the king's vessel. The Vasa would be a floridly crafted masterpiece with at least 700 delicately carved sculptures, figurines, and ornaments: Angels, devils, lions, emperors, warriors, musicians, mermaids, ghastly faces, heavenly facades—all painstakingly crafted from oak, pine, and lime wood.

The boat's exterior would be a palpable rainbow (gilded in gold leaf for extra measure). "The hundreds of sculptures clinging and clambering about the Vasa were an orgy of pink naked flesh, of steel-blue armor, of sanguine reds, poisonous greens, and marine blues," writes Erling Matz in The Vasa Catalog. As Lars-Åke Kvarning writes in Scientific American, these ornaments had many purposes: "To encourage friends, intimidate enemies, assert claims, and impress the world with this picture of power and glory."
But there were problems in designing a ship so much larger than what had come before, and the Vasa sunk spectacularly on its first launch in 1628. It sat on the Baltic Sea floor for more than 300 years. The shipwreck was found in 1956, was brought to the surface by 1961, and has been undergoing preservation treatments ever since. Read the story of the Vasa at Mental Floss.
(Image credit: Andy Carvin)
Source: neatorama