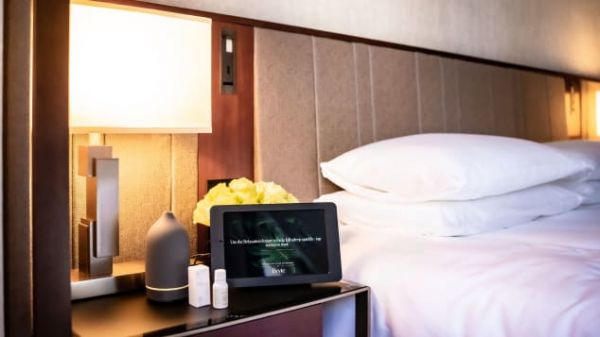 Sometimes, it's not enough to travel to new places to relax. What you really need is actual, sustained, uninterrupted sleep for several hours. That can be hard to get, what with your brain deciding to 2 AM is the ideal time to process that time you of embarrassing, aggravating, or guilt-inducing memories. And when you're not listening to the noise inside your head, there's the noise coming from the outside world.
That's why some luxury hotels are developing rooms designed with sleep in mind. Pictured above is a suite at the Park Hyatt hotel in New York City. It has an AI-controlled bed that adjusts pressure points and temperature while you sleep, essential oils, sleep masks, and sleep-inspiring books.
CNN reports about other hotels that are getting into this market, with high-end sleep-optimal hotels opening in London and Coimbra, Portugal. Sleep, one researcher says, is often the first casualty of travel. Good travel planning should include making plans for how to sleep effectively. Hotels that design their experiences with sleep in mind can offer tourists an essential service.
-via Marginal Revolution
Source: neatorama