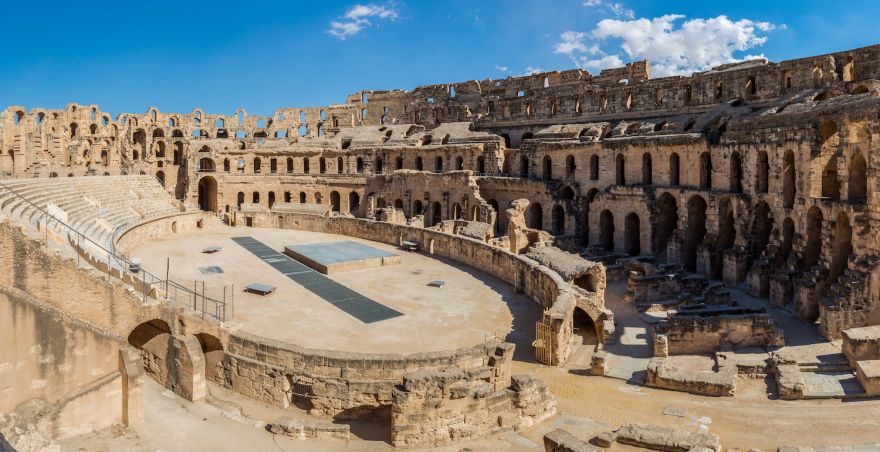 The famous tourist destination and architectural marvel has a twin, and it's not in Rome! The Amphitheater of El Jem is the largest and most well-preserved Roman structure in Africa. Located in the modern-day city of El Djem, Tunisia, the structure was designed to seat 35,000 people. The massive theater was modeled after the Roman Colosseum, as Open Culture details:
Although the small city of El Jem hardly features on tours of the classical past, it was, in the time of the Amphitheater's construction, a prominent site of struggle for control over the Empire. The year 238 "was particularly tumultuous," Atlas Obscura explains, due to a "revolt by the population of Thysdrus (El Jem), who opposed the enormous taxation amounts being levied by the Emperor Maximinus's local procurator." A riot of 50,000 people led to the ascension of Gordian I, who ruled for 21 days during the "Year of the Six Emperors," when "in just one year, six different people were proclaimed Emperors of Rome."
From such fraught beginnings, the massive stone structure of the El Jem Amphitheater went on to serve as a fortress during invasions of Vandals and Arabs in the 5th-7th centuries. A thousand years after the Islamic conquest, El Jem became a fortress during theRevolutions of Tunis. Later centuries saw the amphitheater used for saltpetre manufacture, grain storage, and market stalls.
Image credit: wikimedia commons
Source: neatorama