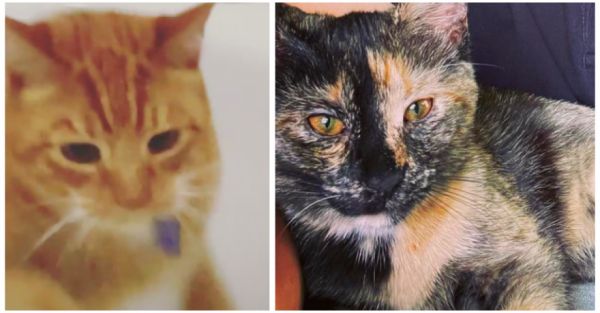 The subreddit AITA is one of reddit's most popular, or at least viral. It stands for "Am I the asshole?" in which users present a situation and other redditors pass judgement. Someone using a throwaway account (u/throwawayorangecat) posted a truly unique situation that you have to read. We assume that all names have been changed. Their workplace has two cats, Jorts and Jean. Jean is a female tortoiseshell cat who is friendly, smart, and normal. Jorts is a big male orange cat who is friendly, but can't even figure out how to open a door when it's ajar. Pam is a co-worker who took it upon herself to "teach" Jorts how to open a door and generally get along in life.
Don't get me wrong— watching her try to teach Jorts how to walk through a door is hilarious, but Jean got locked in the closet twice last week. Yesterday I installed a cat cutout thing in the door and Pam started getting really huffy. I made a gentle joke about "you can't expect Jean's tortoiseshell smarts from orange cat Jorts" which made Pam FURIOUS. She started crying and left the hallway, then sent an email to the group (including volunteers) and went home early.

In her email Pam said I was "perpetuating ethnic stereotypes by saying orange cats are dumb" and is demanding a racial sensitivity training before she will return.
At that point, u/throwawayorangecat posted the question at reddit. Then u/throwawayorangecat got called in by Human Resources. In an update to the story, we found that they managed to smooth things over and set some boundaries, but more details emerged that shows u/throwawayorangecat was not the only one who considers Jorts really dumb, and that Pam was trying some weird and misguided things with the cat. The original poster is to apologize to Jorts, get him a cat bed, and make sure that Jorts' avatar is changed from a sweet potato to a picture of the cat. The whole story is just plain hilarious.
Do it for me. https://t.co/fA2ESmW571

— Jorts (and Jean) (@JortsTheCat) December 15, 2021
These posts sent Jorts trending on Twitter, and u/throwawayorangecat started a Twitter account for Jorts. -via Metafilter
Source: neatorama