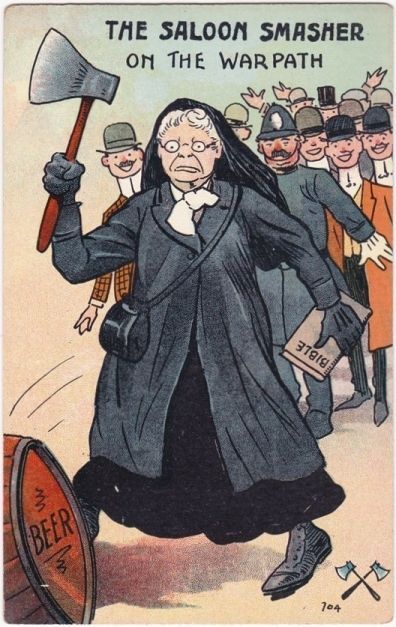 You know Carry Nation as the woman who hated alcoholic beverages so much that she vandalized bars with an hatchet and became the symbol of the Temperence Movement. Nation was always religious, but she only became an opponent of alcohol after she found out her first husband was an alcoholic. Her saloon-smashing career began with a voice from God, and soon turned into a lesson on the value of publicity.
Alone or accompanied by hymn-singing women, she would march into a saloon and proceed to sing, pray, hurl biblical-sounding vituperations, and smash the bar fixtures and stock with a hatchet that she had concealed under her black waterproof cape.

Carry responded with alacrity to appeals from citizens of other towns to close their saloons, as her violent approach, which had received national attention, was getting results. Her behavior provoked a tremendous uproar and sent her to jail repeatedly for disorderly conduct, vandalism, and disturbing the peace in locations where liquor sales were legal. Between 1900 and 1910, Carry was arrested at least 30 times, in Oklahoma, Kansas, Missouri and Arkansas, while many other incidents did not end in arrest simply because the smashed saloons were illegal and the owners just endured the vandalism. She paid her fines from lecture-tour fees and sales of souvenir hatchets and photographs inscribed with "Carry A Nation, Home Defender", or some such, at times earning as much as $3000 per week, this in an age when a typical working man made about $100 a month.
Nation's campaign catapulted her to stardom on the lecture circuit, in vaudeville, and as a publisher. She even portrayed herself in a play, complete with a reenactment of a saloon-smashing. Read about the life and career of Carry Nation and how she influenced the push for Prohibition.
Source: neatorama