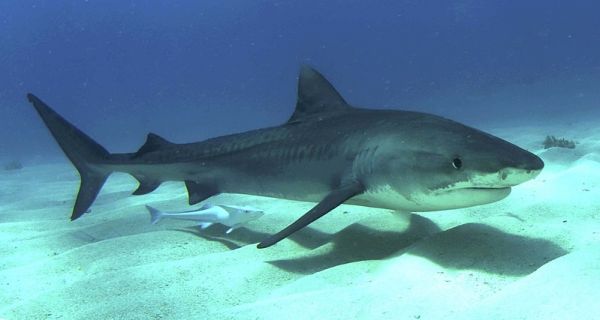 Crowds of people were celebrating Anzac day in Australia on April 25, 1935, including quite a few who visited Coogee Aquarium south of Sydney. Their festive mood was ruined by a shark with an upset tummy.
There was a 14-foot tiger shark on display that had been caught the week before. The shark acted like it was in distress and was thrashing about. Then, in front of horrified onlookers, it threw up a human arm.

In an effort to identify the arm's poor owner, police published pictures and a description of the dismembered appendage in newspapers throughout the region. The left arm had a tattoo of two boxers in a fighting stance, there was also a rope tied around the wrist.
The arm was identified by its tattoos and fingerprints as belonging to a former boxer named James 'Jim' Smith. The grisly public display by the shark would lead one to think that the fish had killed and eaten the man, but that wasn't the case at all. The shark was gutted and searched, and no other human remains were found. Furthermore, police determined the arm had been severed with a knife. The poor shark had not committed murder, but only presented evidence of one. Read the story of the shark arm murder investigation at Strange Remains. -via Strange Company
Further reading reveals that the tiger shark didn't even eat the arm. The tiger shark had eaten a smaller shark that had eaten the arm.
(Image credit: Albert kok)
Source: neatorama