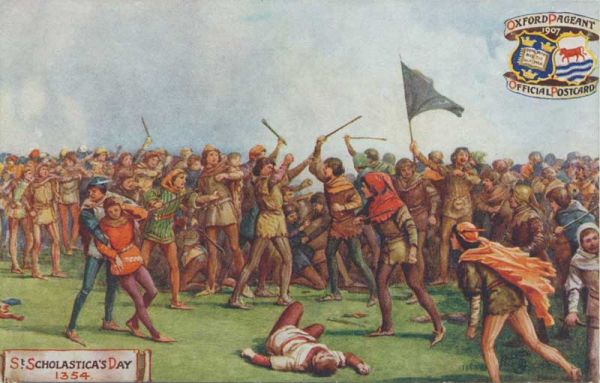 Oxford University is getting close to being a thousand years old. Here's a post that drives home how old the school is. So it stands to reason that some wild drinking was going on from time to time during that long history, as college students are prone to do. One such memorable occasion was a pub brawl that got completely out of hand.   
On 10 February 1355, the entire town was celebrating the feast day of Saint Scholastica. Some students were drinking at Swindlestock Tavern, when two of them complained about the quality of the wine served. The landlord and the tavern's owner, who also happened to be Mayor of Oxford at the time, allegedly responded to their complaint with "stubborn and saucy language"; whereupon a student threw his drink on the owner's face, followed by the empty wine jug that landed straight on the tavern owner's head.

A fight erupted and other customers present in the tavern, both locals and students, joined in and soon the fight spilled out of the tavern and onto the streets. Somebody rang the bell at the town's church to summon assistance, and the students rang the bells of the University Church in response. When the Chancellor of the University tried to intervene, arrows were fired at him and he had to retreat.
The trouble continued the next day, as townspeople sought revenge on the students. Before the fight was over several days later, 90 people were dead. Read about the St. Scholastica Day Riot and a few other deadly university incidents at Amusing Planet.
Source: neatorama