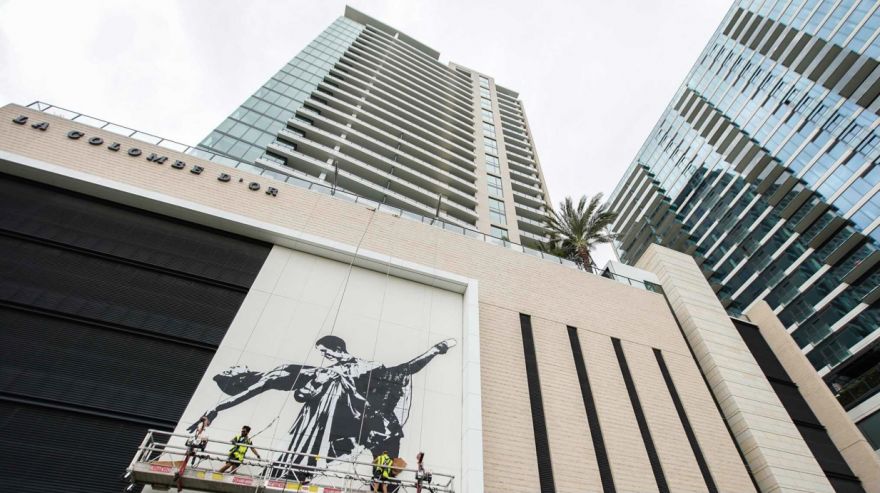 Okay, for the record, they aren't actual gigantic humans. A black and white image of dancers performing a tango-inspired dip can be seen from Residences at La Colombe d'Or, a 34-story apartment and boutique hotel tower on Montrose Boulevard. Called 'Last Tango,' the artwork is Blek le Rat's largest mural, which he completed at the age of 69. The Houston Chronicle has more details:
"I don't want to make horrible, aggressive images," Blek says. "I prefer to give people some happiness." He purchased the tango image from a British photographer and has adapted it recently in smaller murals in France, Germany and Italy — minus the dove with golden wings. "This image is about something positive," Blek says.
The partners liked Blek's design because it reflects the ethos of the Residences at La Colombe d'Or project. "This is a place where people can come together and enjoy life. That appealed to us more than abstract possibilities or landscapes," says Dan Zimmerman, who redeveloped his family's property with his older brother, Steve Zimmerman.
The image strikes a balance between fine and street art and also the brothers' slightly different generations, adds Lea Weingarten, the consultant. "It's an art historical image being used as street art." Zimmerman notes that tango is inherently democratic, often performed in the streets, so the image also speaks to the democracy of street art — and his project. "This is on a major street where everybody can enjoy it…. It's a surprise, a gift for a lot of people," he says.
Image via the Houston Chronicle
Source: neatorama