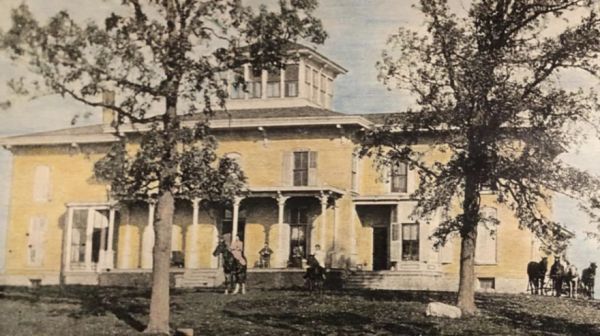 In the early 1850s, two brothers left their home in Massachusetts and decided to build a farm on the frontier near Eureka, Wisconsin. They were twins, unusually close twins, who pooled their resources to buy land, and they built a magnificent home together.
Just outside a small, rural Wisconsin farm town, lay the ruins of a grand mansion. In stark contrast to the flat, surrounding fields and scattered barns, was the peculiar sight of a once opulent home that wouldn't have looked out of place on Manhattan's Fifth Avenue during the Gilded Age. For years, mystery surrounded the empty ruin, with local legends spoken of secret stairways and underground tunnels; some suggesting the decaying manse had been used during Prohibition as a hideout for Al Capone. But the real mystery of the crumbling mansion was even more remarkable. For the house was built in two halves, each side a perfect mirror of the other, inside and out. Enter through the front door and you'd discover two kitchens, four parlour rooms, two dining rooms, and nearly a dozen bedrooms, each half designed and decorated as an exact copy of the other.

Built in 1852, virtually in the middle of nowhere, this mansion was an oddity in its own right – and that was before you even saw who lived there. The unusual Victorian mirrored home was built by identical twin brothers, Argalus and Augustus Foote, who were so inseparable in life, they even married women with matching initials in a double wedding, Augustus to Ann, and Argalus to Adelia. The Foote twins set about building a dream home where each family would live parallel lives in their own half of the mansion. But tragedy would soon descend upon the house, leaving it to fall into ruin. This is the story of the mysterious Foote mansion.
The Foote brothers only lived in the mansion a few years, then moved on to Oshkosh. But the mansion stayed, and outlived the brothers by more than 100 years, without residents for most of that time. Read the story of the legendary Foote mansion at Messy Nessy Chic.
Source: neatorama