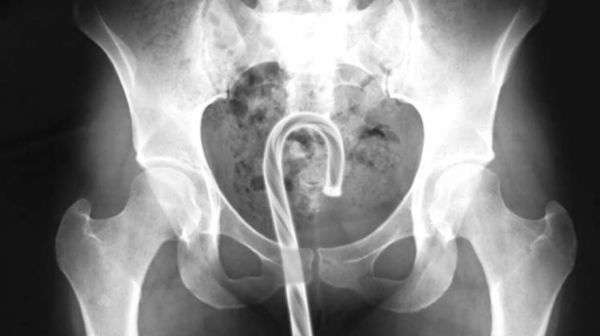 It's that time of year again, in which Barry Petchesky compiles cases from the U.S. Consumer Product Safety Commission's database of emergency room visits to bring us a list of things people had in their bodies that required medical intervention in 2022. In other words, things stuck in orifices. The list is divided by orifice: ear, nose, throat, penis, vagina, and rectum. We would suppose that the first half is dominated by pediatric cases, and the second half by adults with red faces. A few of the items listed include a quote from the report to explain how the patient said the object ended up there, which get less plausible as you move down the list. In some cases, it's impossible to tell if the patient was a child or an adult.
"MISTAKENLY USED SHOE GLUE INSTEAD OF EAR DROPS"

"DROPPED HIS OTTERPOP ONTO THE FLOOR WHICH WAS COVERED IN METAL SHAVINGS FROM A DRILL PRESS, AND CONTINUED TO EAT THE OTTERPOP"

"PATIENT SAYS HE FORGOT TO TAKE FOIL OFF FOIL-WRAPPED BURRITO"
An otterpop is a fruit juice popsicle. I also had to look up "monkey noodle." It's a toy. You can read the whole list at Defector. If the list of things stuck in orifices does not give you enough laughter or pain, you can also see Petchesky's report on the penis injuries of 2022 with patient explanations that I don't feel comfortable quoting here. -via Metafilter
See also: the lists from previous years.
Source: neatorama