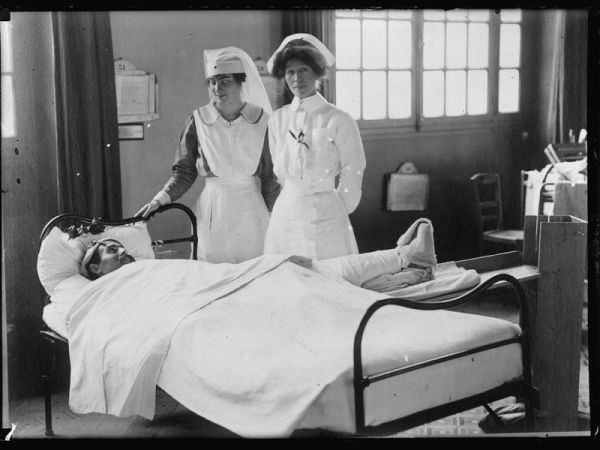 Before Kotex sanitary napkins came on the scene in the 1920s, women handled menstruation in private, using whatever fabric they had, and only discussing its use with the women in one's family. Then stores started stocking mysterious plain boxes, labeled with only the brand name Kotex. It was a product that would make life easier for millions of women, but how could they be helped if they didn't know what it was for?
Like a number of other products that first came to market in the 1920s, Kotex sanitary pads originated as a wartime invention. Kimberly-Clark, an American paper products company formed in the 1870s, produced bandages from a material called Cellucotton for World War I. Cellucotton, which was made of wood pulp,, was five times as absorbent as cotton bandages but much less expensive.

In 1919, with the war over, Kimberly-Clark executives were looking for ways to use Cellucotton in peacetime. The company got the idea of sanitary pads from the American Fund for the French Wounded, according to historians Thomas Heinrich and Bob Batchelor. The Fund "received letters from Army nurses claiming they used Cellucotton surgical dressings as makeshift sanitary napkins," the pair write.

Kimberly-Clark employee Walter Luecke, who had been tasked with finding a use for Cellucotton, understood that a product designed to appeal to about half the country's population could create enough demand to take the place of the wartime demand for bandages. He jumped on the idea.

But Luecke ran into problems almost immediately. The firms he approached to manufacture sanitary napkins from Kimberly-Clark's Cellucotton refused to do so. "They argued that sanitary napkins were "too personal and could never be advertised," Heinrich and Batchelor write. Similar doubts plagued Kimberly-Clark executives, but Luecke kept pushing and they agreed to try the idea, making the sanitary napkins themselves.
They found a way to advertise their product, too, although figuring out what the ads were talking about was strictly on a need-to-know basis. Once again, that was discussed only with the women in one's family, for the next 50 years or so, when other brands gave Kotex some competition. Read up on the history of Kotex and its discreet advertising campaigns at Smithsonian.
Source: neatorama