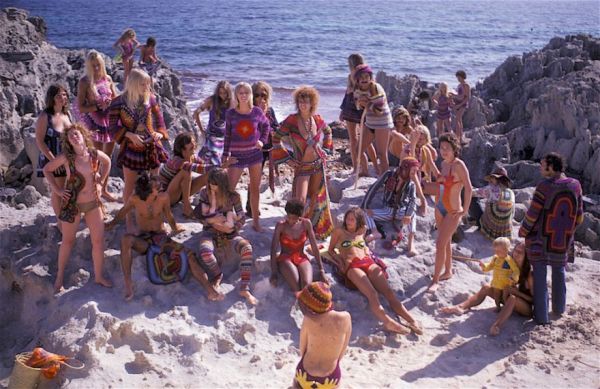 Crochet has had a bit of a renaissance lately, with crafters making adorable amigurumi figures and Halloween costumes and sharing them online. Before that, crochet was seen as something to keep a woman's hands busy while her husband flipped through the channels (I've been there), slightly less useful than knitting, because knitting produces clothing. However, there was a time during the late 1960s in the early '70s when colorful crocheted clothing became quite popular with the young, hip crowd. And it was all because of a Swedish crochet artist named Birgitta Bjerke.
On December 11, 1968, Eric Clapton stepped onto a low stage inside Intertel (V.T.R. Services) Studio north of London to play a few tunes with John Lennon and Keith Richards; the occasion was the taping of "The Rolling Stones Rock and Roll Circus" for the BBC. At the time, Clapton was the most revered electric guitarist in rock, even amid the incendiary ascendancy of Jimi Hendrix. A few weeks earlier, Clapton had performed his last two shows as a member of Cream at the prestigious Royal Albert Hall, and by the summer of 1969, he would team up with Steve Winwood of Traffic to form a "supergroup" called Blind Faith.

Normally, none of this would have anything to do with crochet, but on that particular December day, Clapton was wearing a brightly colored, predominantly orange crocheted jacket, in which grids of traditional granny squares on the garment's front, back, and cuffs were paired with bold stripes of alternating colors circling up the sleeves; Clapton's red tennis shoes and cherry-red Gibson ES-335 completed his ensemble.

Handmade for him by a 27-year-old Stockholm native named Birgitta Bjerke—who was recently arrived in London from New York via Athens, and sold her fashions under the label "100% Birgitta"—Clapton's jacket reflected the anything-goes fashion ethos of London's trendy King's Road. That's where Bjerke worked, hung out, and was introduced to the city's music and fashion scenes by another Swede, Ulla Larsson, who dressed some of the biggest names in British rock from a vintage-clothing stall she managed in the Chelsea Antique Market, across the street from Carlyle Square.

"It wasn't a store per se," Bjerke tells me over the phone, "more like a booth. It was like being in an Aladdin's cave draped in magnificent textiles. It was fabulous."
Bjerke dressed other rock stars in her crocheted creations as well. Her life and her art took her across Europe and to the United States. Read about the fabulous life and art of Birgitta Bjerke in an interview at Collectors Weekly.
(Image credit: Karl Ferris)
Source: neatorama