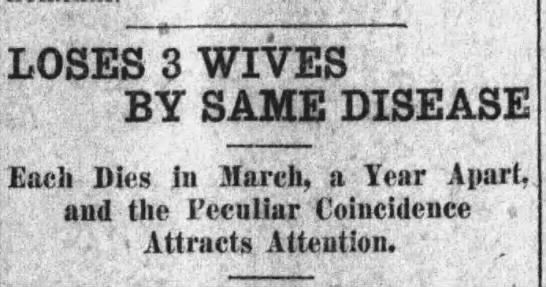 When a man marries three women and they all die, one starts to question the circumstances. Was it really spinal meningitis, or something more nefarious? Still, you would think that anyone with a lick of sense would space the murders out so that they didn't form an obvious pattern. The third death occurred in 1907.
Poseyville, Ind, April 1. Zack Watson, of Wadesville, has undergone a peculiar experience. On March 15, two years ago, his wife was seized with convulsions and died in a few hours. He soon remarried and last March, a year almost to a day from the death of the first, Mrs. Watson, the second wife, died of the same disease. Then he married the third time and yesterday his wife died of the same illness and almost in the same manner.
However, it wasn't all that long after the third Mrs. Watson died that the true cause of death was determined. The answer to this real-life riddle is even stranger than murder. See if you can guess what happened before you read the conclusion to the story at Strange Company. You'll find further information in the comments.
Source: neatorama