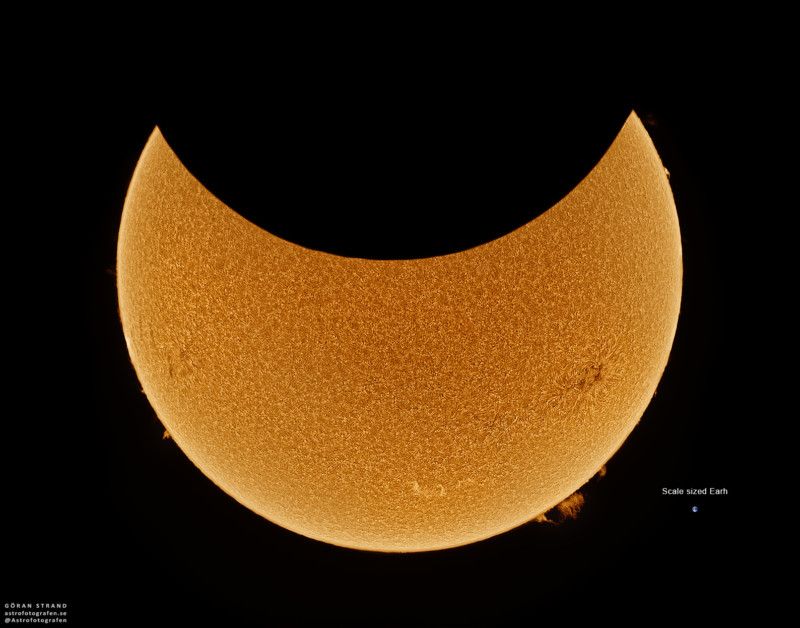 A thousand is a lot. How about fifty thousand? That's a lot of photos right there! Göran Strand captured 50,000 still images of last week's solar eclipse from his backyard in Sweden. Strand used over 250 gigabytes of images to condense the two-and-a-half hour solar eclipse into just ten seconds! PetaPixel has the details: 
To add to the remarkable achievement of capturing the movement of the eclipse itself, Strand also captured all of the solar prominences. A solar prominence is a large, bright feature extending outward from the Sun's surface. Strand also shows a close-up of the largest prominence with a scaled earth graphic beside it. With this remarkable graphic, it's easy to see how roughly one million Earths could fit inside the massive star.
With so many frames captured, Strand told PetaPixel about how he went about editing the solar eclipse timelapse.
"To capture the timelapse, I took a series of 200 frames every 30 seconds for 2.5 hours," he explains. "From each 200-frame clip, I stacked, aligned, and calibrated the best 50 frames. In total, I ended up with 250 calibrated still images that I then did further processing with. First, I aligned all of the 250 images, sharpened the details, and then extracted the data that showed all the prominences. Then I had my finished images for the timelapse."
As eclipses and other notable astro events occur rarely, less than ideal weather is always a challenge for those photographers hoping to catch the action.
Image credit : Göran Strand
Source: neatorama