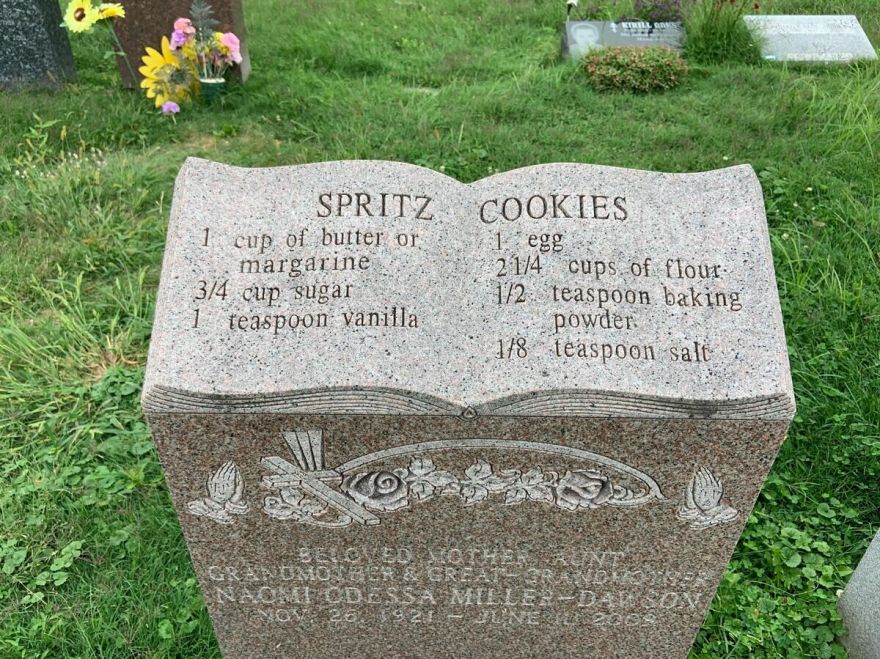 Naomi Miller-Dawson, a Barbadian immigrant to the United States, lived in Brooklyn. Her profession was postal clerk, but her joy was baking for her family. In Medium, Madeline Muzzi reports that Miller-Dawson's son, Richard Dawson, remembers spritz cookies as a special family symbol:
Richard Dawson described her lemon squares and oatmeal raisin cookies fondly, and joked that she had other recipes that she refused to share with him. To him, spritz cookies are the ultimate embodiment of their family gatherings. He remembered his mother making them most frequently around the holiday season, and recalled the excitement he and his siblings would share whenever they saw them go into the oven. "Me, my sister, and my cousin George … would literally sit around waiting for these things to come out of the oven, and when she turned her back, we'd eat them. … If she wanted to make two dozen cookies, she'd have to make about six dozen because we'd eat them."
Thus it seemed appropriate to top her tombstone with not a Bible verse or proverb, but a recipe for those favorite cookies.
-via Atlas Obscura | Photo: Sam O'Brien/Atlas Obscura
Source: neatorama