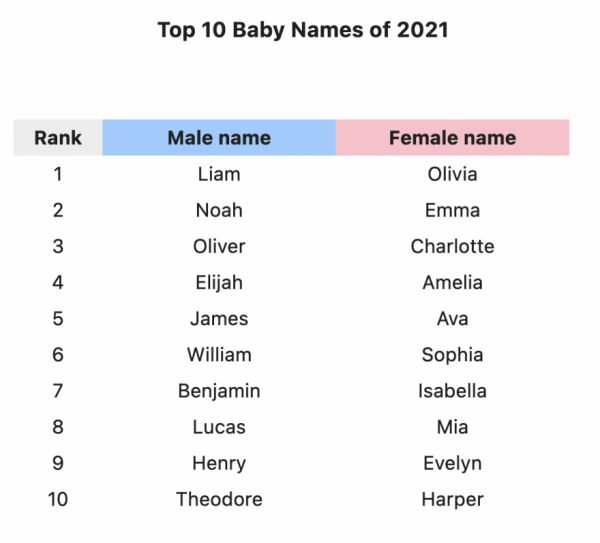 The Social Security Administration has released the statistics for what Americans named their babies in the year 2021, which you can see above. There doesn't seem to be a lot of changes from 2020 in the top ten. Theodore has replaced Alexander on the top ten, and William and James have switched places. The girl's list has the same names in the top ten, with a little shuffling of rank. I'll bet Sophia would be number one if everyone spelled it the same.
On the same page as the top ten, you'll find calculators to see the top names of any year since 1879, expandable up to 500 deep, and you can look up your name to see when it peaked in popularity.
Check out the top five names for both boys and girls for each of the last 100 years. The most common names for the entire century were James and Mary. Mary was number one every year until 1947! Michael had a hot streak, too, as it was number one for 44 of those years.
If you're tracking trendy names, you'll want to see which ones have gained the most in popularity since the previous year, and the ones that have declined since 2020. You won't be surprised to see Karen has dropped 263 places in rank. -via Digg
Source: neatorama