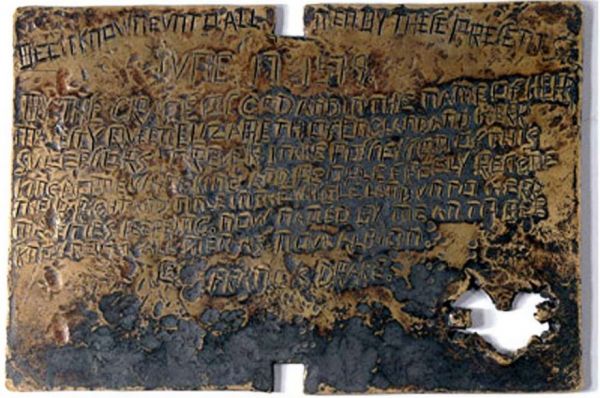 In 1936, a young retail clerk found an interesting piece of metal near near San Rafael, California. He could make out the words "Sir Francis Drake" on the inscription. A year later, friends convinced him to take it to the local college, where UC Berkeley historian Herbert Eugene Bolton recognized it as an artifact he'd been looking for for years. Not long afterward, he called a meeting of his colleagues.
For centuries, historians had searched for Drake's plate, the only physical evidence of Sir Francis Drake's expedition to the California coast. The English privateer, fresh off raiding Spanish ships and towns along the Pacific coast, found safe harbor in the Point Reyes area in June 1579. While resting and restocking there, he claimed the territory for Queen Elizabeth I. He named it New Albion.

According to crew member accounts, Drake left an inscribed brass plate in the area to stake his claim. But in the 350 years since, no one had seen it.

Bolton was convinced it was still out there. Whenever his students said they'd be taking a weekend trip to the seashore, he asked them to keep an eye out for Drake's plate.

Now, he had it. It was not what he expected, sure, but Bolton had explanations for everything. He told the assembled crowd and the media there was no doubt this plate was real. Its craftsmanship and writing ("BY THE GRACE OF GOD AND IN THE NAME OF HERR MAIESTYQVEEN ELIZABETH OF ENGLAND AND HERR SVCCESSORS FOREVER, I TAKE POSSESSION OF THIS KINGDOME," it read in part) was consistent with the 1500s.
There was skepticism from the start, but Bolton died in 1953 believing he had Drake's plate. In 1977, the plate was exposed as a hoax, but the full story didn't come out until 2003. Read the rest of the details behind Drake's plate at SFgate. -via Digg
Source: neatorama