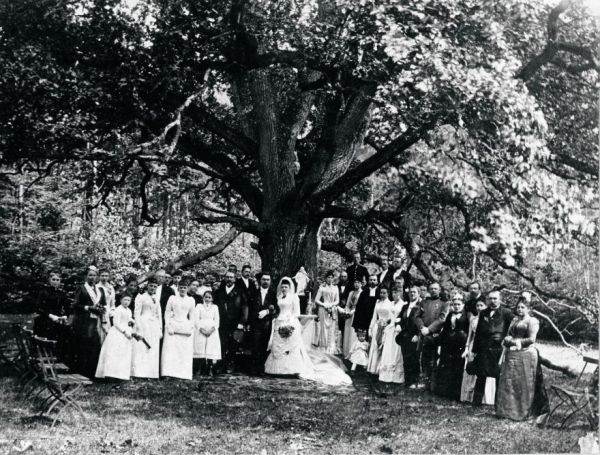 In a forest near Eutin, Germany, stands the Bridegroom's Oak. Legend has it that the tree holds magical powers to bring lovers together. Lonely people write letter to the tree, and have for decades. In fact, since 1927 the tree has its own postal address! Postman Karl-Heinz Martens was assigned to deliver letters to the tree starting in 1984, a job he held for 20 years. He also told the tree's story to the tourists who came watch the tree's mail delivery every day.  
"Once upon a time, there was a son of a prince," Martens began. "He was left in this forest and no one cared about him until a very beautiful girl rescued him. And because he was so grateful to her, he planted a tree." That seedling, he said, grew into a mighty, 82-foot-tall oak.

"That's the short version," Martens told me as we trudged through the forest late last year, kicking up leaves.

The story of how the tree became known for matchmaking is a little longer, he explained. In 1890, a chocolate maker from nearby Leipzig fell in love with the forester's daughter, but her father forbade the relationship. Instead, the two lovers left each other notes in the knothole of the oak tree. Eventually, the girl's father had a change of heart. He threw a wedding ceremony where his daughter's love had bloomed. There, in the shadow of the branches, the bride and groom kissed, and the tree found its name. It was after that, Martens said, that other love letters started to arrive.
The letters are delivered, then others who are looking for love reach in and take a letter. They either respond to the writer, or put the letter back for someone else. Hundreds of people have found partners this way, even across the wall that separated East and West Germany. But the tree is not as interesting as the life of the man who delivered its mail. Read how the postal service led Karl-Heinz Martens to find his mother and how the Bridegroom's Oak led him to find love, at the Atlantic. 
Source: neatorama