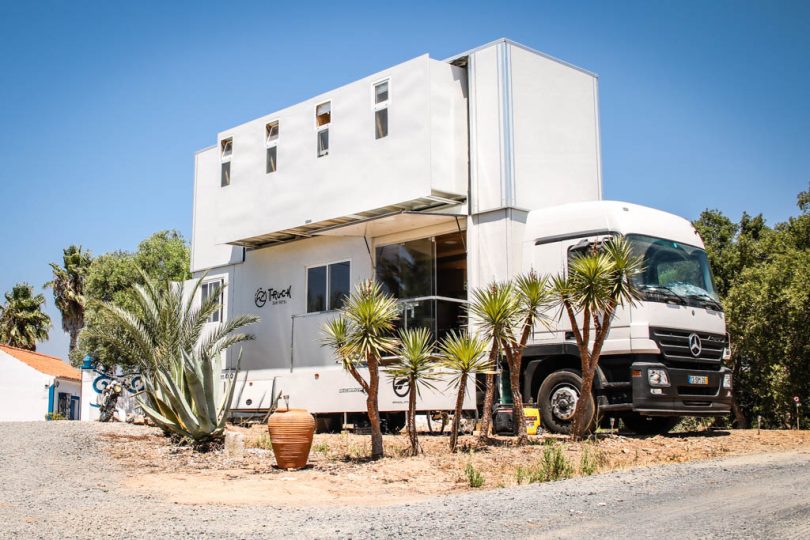 The Mercedes-Benz Actros has been relied upon for years as a long distance transport truck designed efficiently to deliver goods from point A to be point B – a practical vehicle with a few luxe features designed to keep truck drivers happy. But Daniela Carneiro and Eduardo Ribeiro envisioned the potential for something remarkably different, a long hauler intended to appeal to those chasing waves. Modified with a custom hydraulic system and the additional double decker accommodations, their Truck Surf Hotel offers one of the most unique travel experiences available today.
The Truck Surf Hotel concept combines the comforts of a hotel or Airbnb with the adventurous "go anywhere" possibilities of a recreational vehicle. Inspired by their own travels in a camper van chasing waves across Europe and Africa, surfers Carneiro and Ribeiro designed the Truck Surf Hotel as a mobile solution inviting similarly spirited surfers and adventurers to be driven to uncrowded surf spots for the best waves, pristine natural parks, uncrowded mountains, and other off-the-beaten path destinations all with the accoutrements of a luxurious hotel.
The first floor is equipped as a living room, appointed with communal couches and a table for guests to kick back and also to enjoy entertainment delivered by a projection system during the evening. A stocked kitchen is ready for meal preparation or to serve catered meals, while a bathroom with a toilet and shower keeps guests comfortably clean.
Upstairs five rooms are divided into four shared double rooms with bunk beds, and one private double room with a bed large enough for a couple to share. Each room is air conditioned and equipped with its own locker to keep personal belongings safe while guests are out and about.  And just like any other hotel, rooms are cleaned and made during the day, ready to greet guests when they return from a full day surfing or adventuring.
The Truck Surf Hotel offers packages for trips across Portugal and Morocco, with one week accommodations starting at €499/person for a shared room, with the option to rent out the entire hotel on wheels for a group for €5,410 per week, offering a unique family/friends getaway or small team retreat option like no other.

Source: design-milk