Portuguese furniture maker De La Espada is celebrating 25 years with the unveiling of the Twenty-Five Collection at The Future Perfect's New York gallery space. The collection was designed by De La Espada's new in-house design studio, De La Espada Atelier, with furniture pieces that look back to the early days of the brand, when design, engineering, and production all took place in-house.
A refined, international aesthetic permeates Twenty-Five, creating a family of detailed, versatile, and tactile furniture pieces. Crafted in solid wood, inspiration was found in the work of 1930's designers, such as Axel Einar Hjorth and Charlotte Perriand, Dieter Rams, and the Shakers. In celebrating Portugal's craft heritage, the collection includes work made in collaboration with local artisans including Toino Abel, Fabricaal, and Viúva Lamego.
"When I design or think about things, I want them to be beautiful, but I also want them to be humble and honest," Simon Kämpfer, Head Designer of De La Espada Atelier said. Twenty-Five accomplishes all of the above while highlighting the materials in use: tiles, blankets, junco, and cork. Small, scooped-out details in the wood further emphasize its grain.
Kämpfer and a team of in-house industrial designers and product engineers worked closely with De La Espada's wood and upholstery specialists, local craftspeople, and the company co-founders, Luis De Oliveira and Fátima De La Espada. A wealth of knowledge – more than 25-year's worth – was at their fingertips while creating the dialogue for Twenty-Five. For each desk, chair, shelving unit, bedside table, bed, coffee table, and side table, they considered how users interact with furniture to create pieces that are comfortable and versatile. Like all of De La Espada's furniture, every product is made to order in their solar-powered plant in Portugal.
Twenty-Five Bed, Special Edition. Inspired by the work of Carlo Scarpa, Charlotte Perriand, and Josef Frank, it features a woven headboard made from junco. Junco is a highly-sustainable material used in Portugal to make baskets and handbags. De La Espada cleverly used the frame of the headboard as a loom, with Danish paper cord used for the warp. The back shows off the cut ends of the grass, highlighting the material and handwork that goes into creating each one. With a slender frame and relatively small footprint, the Twenty-Five Bed works great in compact spaces.
Twenty-Five Bedside Table. Crafted from solid wood and junco, it's an ideal companion for the bed. The side panels are woven on a loom at the historic Portuguese basket-making workshop Toino Abel before being attached to the frame. The drawer's front was designed with a recessed handle hidden from view. Other thoughtful details include magnets that allow for easy access to the cable management compartment. Meanwhile, a recess in the table's top prevents items from rolling off. Featuring generous yet compact storage with cable management, the bedside table is available in two configurations: with two shelves or with one drawer and one shelf.
Twenty-Five Desk. Inspired by the work of Charlotte Perriand and the organic shape of gourds, the solid wood desk is the focal point of a room with its bold shape and detailing. Comfort was heavily considered in its creation, from the thick desktop and soft edge to the solid wood legs with subtle scooped-out detailing. The desk's cable management system features a cover crafted in marble and brushed brass. Choose between two configurations: a work table for the use of up to four people or a desk with a drawer suitable for up to 2 people.
Twenty-Five Chair. This solid wood dining chair with a curved backrest is made from ten components carved and joined together. Short armrests allow for comfort and flexible sitting positions. The design reflects Scandinavian and Portuguese influences, with this special edition featuring a custom-designed textile traditionally woven and colored by artisan blanket-weavers – Fabricaal.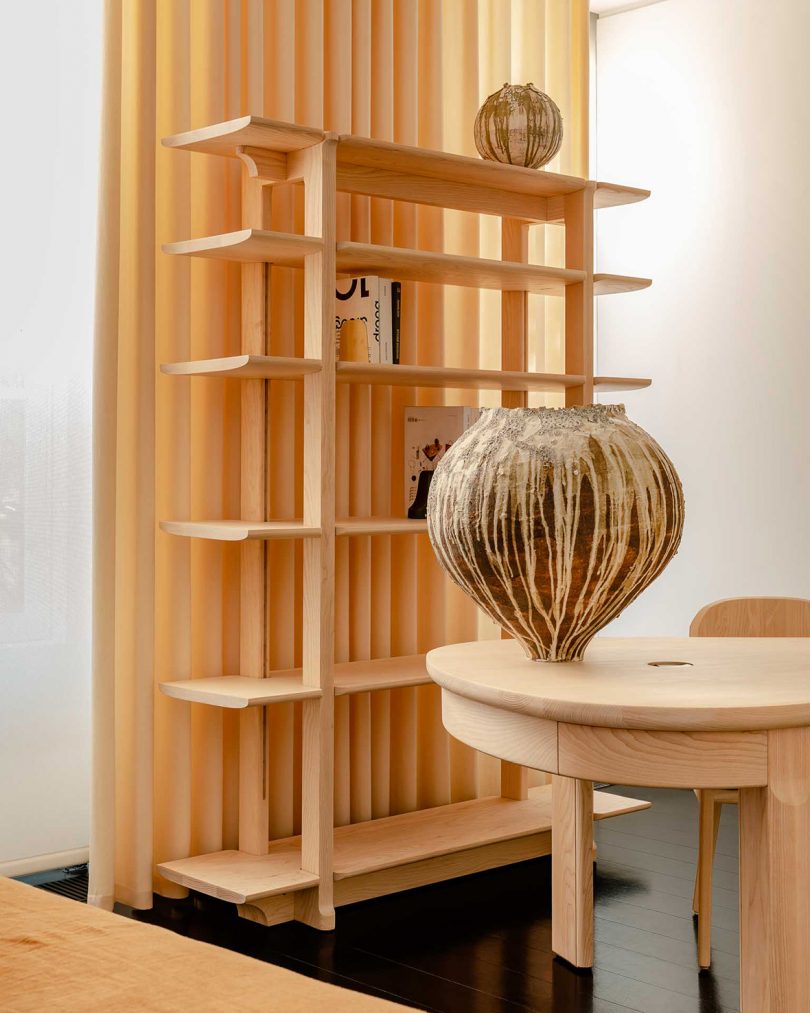 Twenty-Five Shelving Unit. Its design was influenced by Chinese Ming dynasty shelving, wood sculpting details found in Brancusi sculptures, and Hans Wegner chairs. Designed for flexibility, the Twenty-Five Shelving Unit is available in several sizes, and each shelf is adjustable with the use of a hidden mechanism.
To learn more about the Twenty-Five Collection, visit delaespada.com.
Source: design-milk