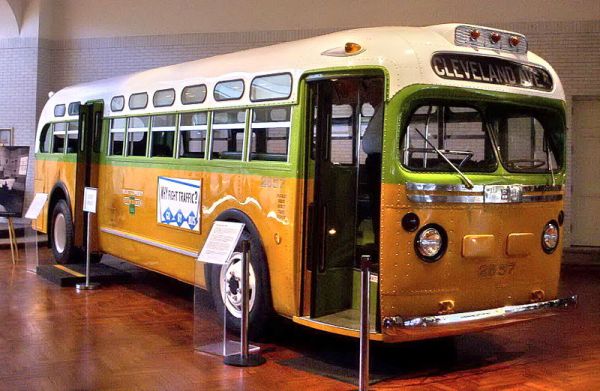 Georgia Gilmore worked two jobs to support her six children in Montgomery, Alabama, in 1955. After Rosa Parks was arrested for refusing to give up her bus seat to accommodate a white man, Gilmore went to hear a preacher talk about boycotting Montgomery city buses. The preacher was Martin Luther King, Jr. and Gilmore was inspired. She went to work to support the Montgomery Improvement Association (MIA), the organization that coordinated the boycott.
In order to raise money for the MIA, Gilmore organized an underground network of black women who sold pound cakes, sweet potato pies, and plates of fried fish and stewed greens door-to-door. More than half of the city's black female workers were employed by white families, so Gilmore's group provided an opportunity for them to contribute without jeopardizing their jobs. "Some colored folks or Negroes could afford to stick out their necks more than others because they had independent incomes," Gilmore told the Chicago Tribune in 1975, "but some just couldn't afford to be called 'ring leaders' and have the white folks fire them."

To protect the participants from any backlash, Gilmore named the group the Club from Nowhere. That way, if the MIA was ever asked where their money came from, they could honestly say "nowhere." Only Gilmore knew who cooked and purchased the food.
Gilmore herself was fired from her cafeteria job for her efforts, but she turned that setback into an opportunity by opening a restaurant in her home, which became a hangout for Civil Rights figures. Read the story of Georgia Gilmore and the food that fueled the Montgomery bus boycott at Atlas Obscura.
(Image credit: rmhermen)
Source: neatorama